Sharing my full review of ButcherBox now that we've been using it for over a year. If you'd like to try it out, you can use this link for $50 off. This post isn't sponsored; just sharing it because we love it!
Hi hi! How's the morning going so far? I'm off to a Pilates class, have an afternoon filled with coaching calls, and then date night with the Pilot. I hope you have a wonderful day!
Today, I wanted to talk about one of my favorite things that we have delivered to the house: ButcherBox! We've been using ButcherBox for a long time, and it makes grocery shopping so much easier. I thought I'd break it down in today's post if you're curious about giving it a try!
ButcherBox Product Review
What is ButcherBox?
ButcherBox is a subscription-based meat delivery service that promises to deliver high-quality, humanely-raised meat straight to your doorstep. The service offers a variety of meats, including grass-fed beef, heritage pork, and free-range chicken. They also offer deli meat, cooked options (like the best gluten-free chicken nuggets) and wild-caught shrimp.
The first thing to note about ButcherBox is that all of their meats are ethically sourced and free from antibiotics and hormones. The company partners with small-scale farmers and suppliers who raise their animals in humane conditions and follow strict standards for animal welfare.
The ordering process is straightforward – you can choose from a selection of pre-curated boxes or create your own custom box based on personal preferences. Boxes can be delivered on a monthly or bi-monthly basis, and customers can pause, cancel, or modify their subscription at any time. We typically do the custom box, but add on specials and member deals, like tri tip, extra steaks, and holiday fare, like corned beef for St. Patrick's Day.
Once you receive your ButcherBox, the meats are vacuum-sealed and packaged in an insulated box with dry ice to ensure freshness during transit. The meats are delivered frozen and can be stored in the freezer until ready to use.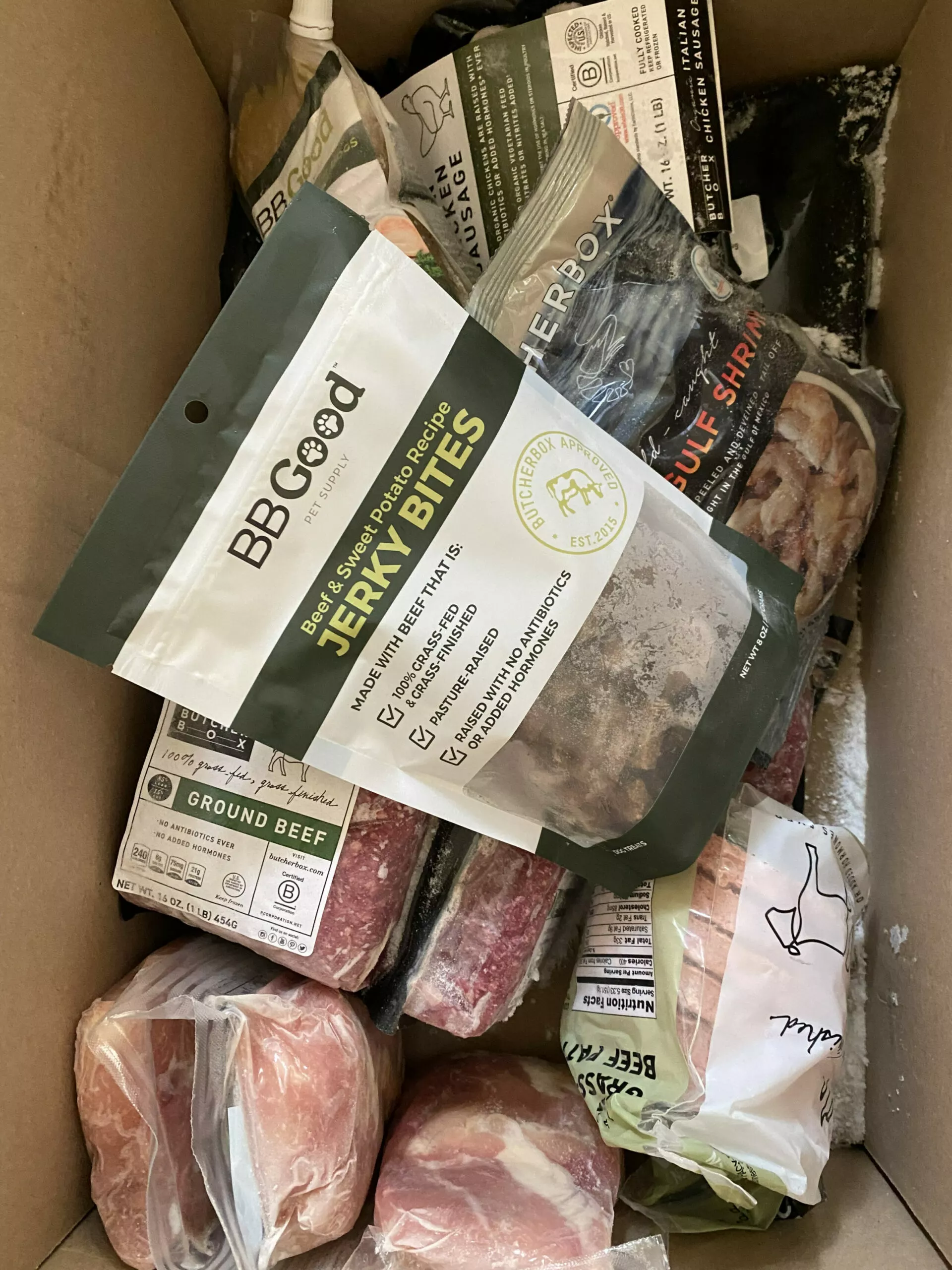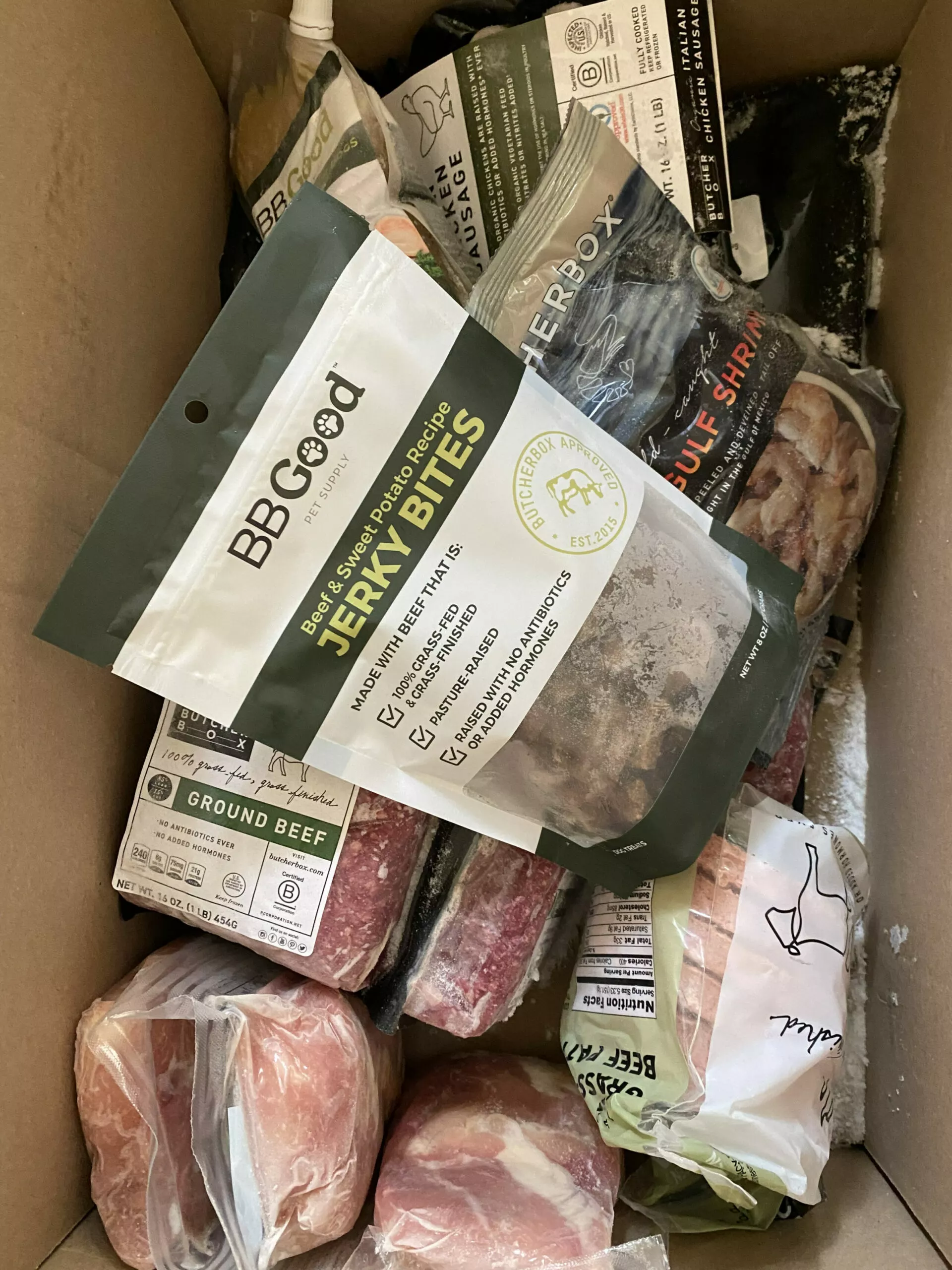 (They have dog treats now, too! Mazer is a huge fan)
Pros and cons of ButcherBox
In terms of the quality of the meat, ButcherBox definitely delivers. The cuts are consistently high-quality, with great flavor and texture. The grass-fed beef, in particular, is noticeably leaner and has a richer taste than conventionally-raised beef. The chicken and pork are also delicious and have a great depth of flavor. We also love their fish, especially since it can be difficult to find fresh, high-quality fish in the Arizona desert.
Another great aspect of ButcherBox is the convenience it offers. Having high-quality meats delivered straight to your doorstep saves time and eliminates the need to visit the grocery store or butcher shop. It's also a great option for those who live in areas where access to high-quality meat is limited. For us, I also appreciate that it simplifies trips to the grocery store; since we get our pantry staples and meat delivered, I typically only have to buy fresh fruits and veggies, in addition to any specialty items.
I feel like the cost is less expensive than most grocery stores for the quality, but have heard differing opinions depending on your go-to grocery store. We primarily shop at Whole Foods and find that ButcherBox is WAY less expensive for similar quality. The subscription prices are higher than what you would typically pay at some grocery stores, but the quality of the meat and the convenience of the service may be worth the extra cost.
Is ButcherBox worth it?
Overall, ButcherBox is a great option for those who are looking for high-quality, ethically-sourced meat delivered straight to their doorstep. The service is convenient, the meats are consistently delicious, and the company's commitment to animal welfare and sustainability is admirable. While it may be more expensive than buying meat at certain grocery stores or butcher shops, the quality and convenience of ButcherBox make it a worthwhile investment for those who prioritize ethical sourcing and high-quality meat.
So, tell me, friends: have you tried ButcherBox? If so, what are your favorites?
If you decide to give it a whirl, you can use my referral link for $50 off!
Here are my top picks:
Burgers (so easy to pop in the air fryer for a quick protein-packed lunch staple)
Wild caught salmon
Wild scallops
Brisket (the BEST brisket when cooked on the Traeger!)
Ground beef
Ground turkey (love making meal prep meatballs with this)
Chicken (thighs and whole chicken)
xoxo
Gina