Sharing my favorite finds from Trader Joe's! 
Hellooooo! How are ya? I hope you're enjoying the day so far. I have a couple of meetings this morning and looking forward to a massage later today. I hope you have a lovely day ahead!
For today's post, I wanted to share my favorite Trader Joe's finds! I LOVE learning about new Trader Joe's products — they have so much good stuff. Since 2020, the Pilot had been doing most of the grocery shopping. Since he was "out in the world" more during that one time that shall not be named, it was something we did for safety. He would get most of our groceries at Trader Joe's, and we would order everything else for pickup from Whole Foods.
Over time as things changed, the grocery routine remained the same. He would get most of the groceries at TJ's, I would pick up the extra stuff at Whole Foods or Natural Grocers. While I loved the fact that he took this major chore off my plate, I definitely missed browsing Trader Joe's and finding new fun things. When I finally went back… I went a little wild lol. The guy at checkout was like, "I'm going to grab you a second cart" lol.
For today's post, I wanted to share some of my all-time faves. Please try to keep in mind that I tried to only include more *fun* stuff on this list. Yes, Everything but the Bagel seasoning is life-changing, and Trader Joe's has lovely medjool dates, salad greens, flowers, and candles, but I wanted to include products that are exclusive to Trader Joe's. Please let me know if you have any favorites, especially for fall!
My 15 favorite Trader Joe's products

1. The gluten-free brownie mix
I've tried so many gf brownies mixes over the years and this one is hands down the best. It's fudgy, soft, super rich, and let's just ignore the fact that the #1 ingredient is sugar.
2. "Everything but the Elote" chips
These chips are LIFE and there's nothing that tastes as good as the first chip. They're extremely savory, a little spicy, and have the perfect Frito-esque shape and crunch. 10/10
3. Chili and Lime Flavored Rolled Tortilla Chips aka TJ's Takis
We all agree that these taste even better than Taki's and have way better ingredients. The flavor is much more bold and lime-y, and no red food dye. Wins all around.
4. Hot and sweet jalapeños
These are the perfect mix of spicy and sweet and taste amazing on a plain tortilla chip or nachos.
5. Simply almonds, cashews, and chocolate trail mix
I love this plain trail mix with chocolate chunks. My other favorite trail mix is NOW Foods Raw Energy Nut Mix and I'll add chocolate chips to it!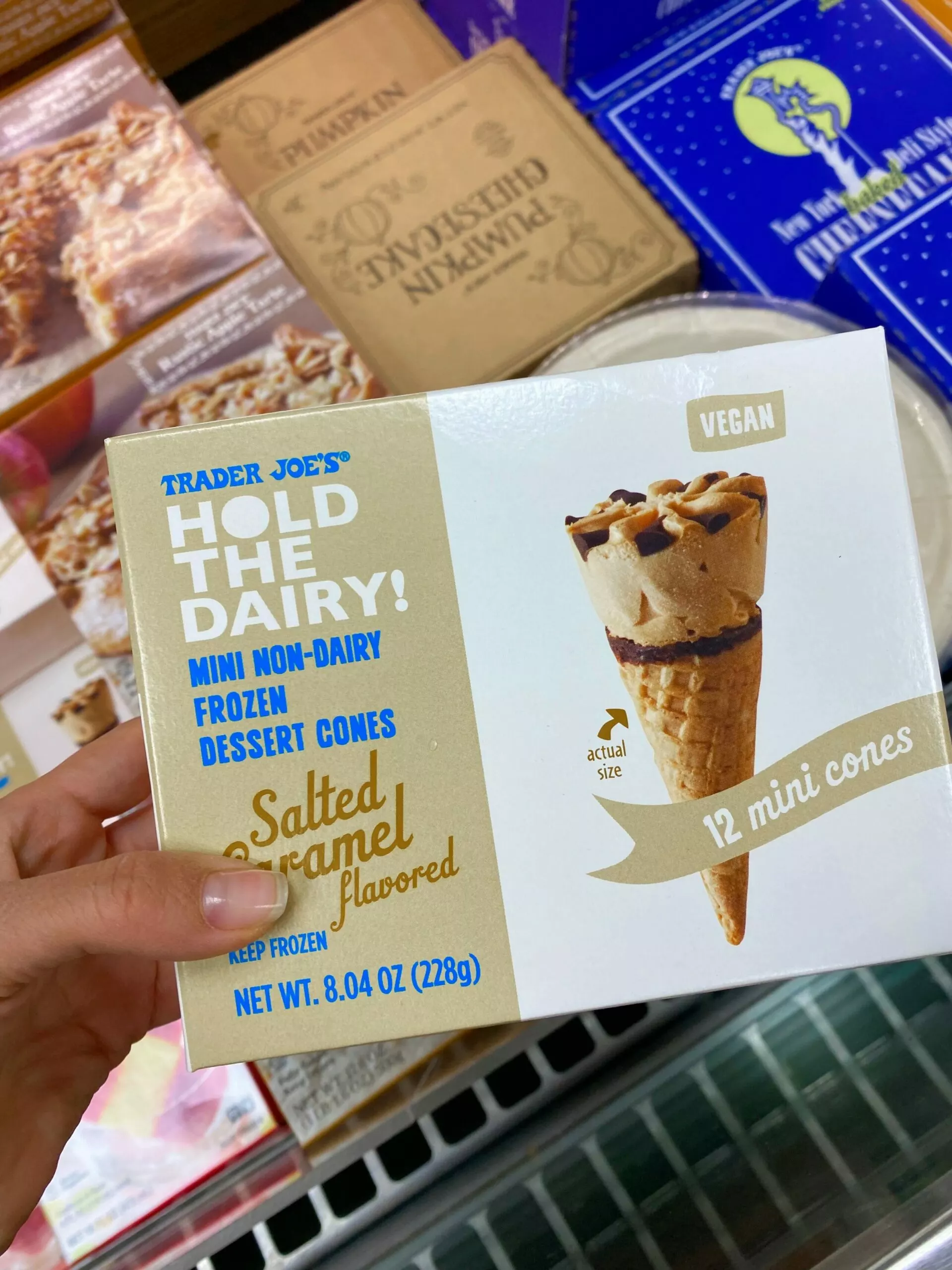 6. Mini vegan ice cream cones
These are the perfect little sweet bite! I usually get the chocolate chip but they recently came out with a salted caramel. YUM.
7. Tahini
Ok, so this is the least *fun* one on the list, but I love their tahini. It's organic, has a lovely texture, is perfect for hummus (which I make a couple of times a week), and so much less expensive than some of the other brands.
8. Instant boba
The girls go wild for the instant boba, which is frozen. It takes only a couple of minutes to heat up, I pour almond milk on top, and they include boba straws.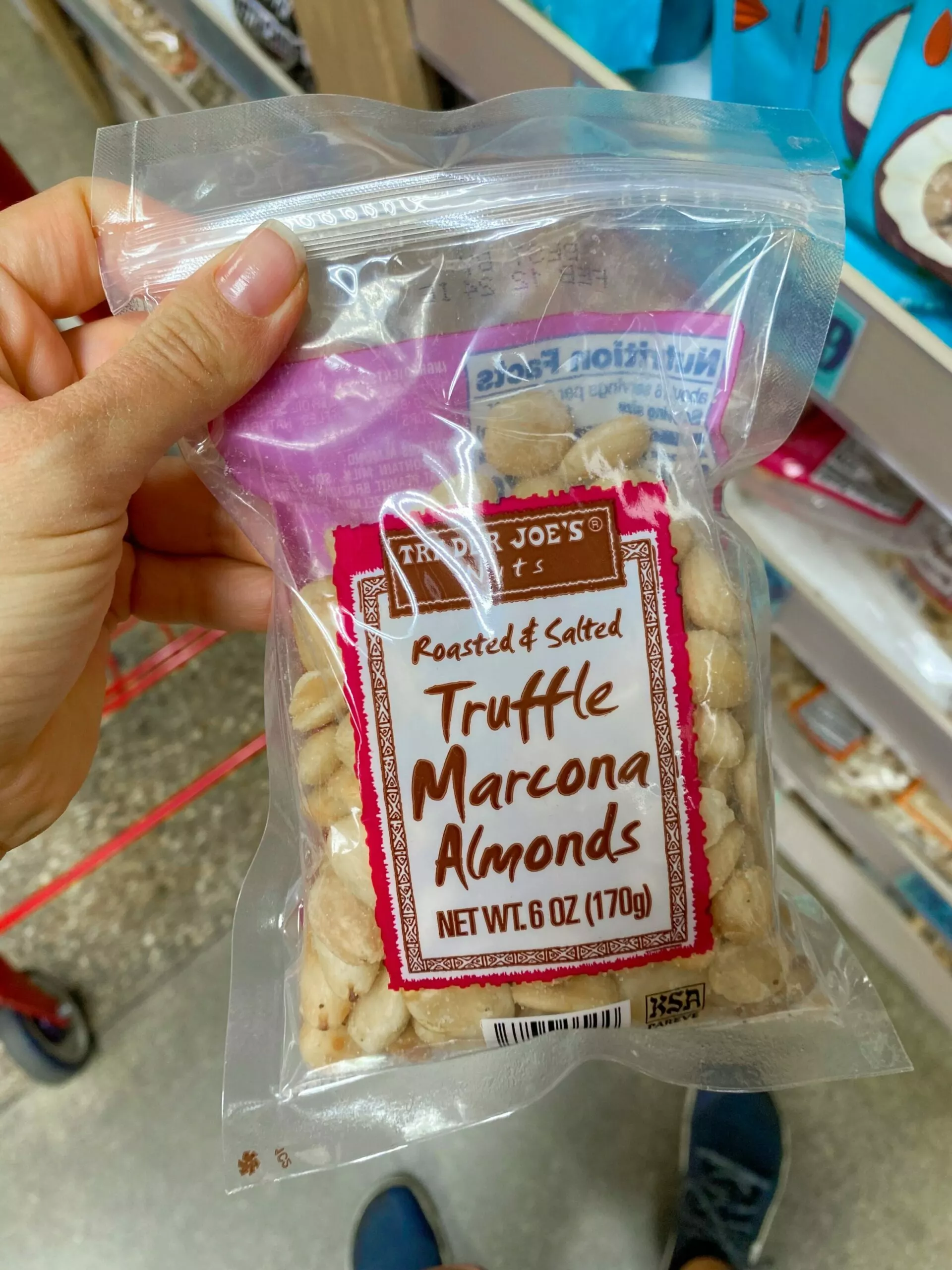 9. Truffle almonds
These truffle Marcona almonds are amazing on a cheese board or salad. They're nice and salty and have the perfect amount of truffle flavor.
10. Mini dark chocolate peanut butter cups
If I could just have one sweet bite forever, this would be it. They're an ideal size for a quick little sweet, and the peanut butter inside has a great flavor and texture.
11. Salsa Especial (medium)
This salsa just like restaurant salsa and is awesome on eggs, rice, enchiladas, or with chips.
12. Plantain chips
The plain ones are amazing and I also like the chocolate dipped ones! While I wish they used olive, coconut, or avocado oil, they're still tasty with some guacamole.
13. Dill pickle salad kit
We're all obsessed with dill pickle salad kids, but this one beats the Whole Foods one because it comes with dill pickle potato chips to crumble into the salad. Seriously 10/10.
14. Organic orange juice
It really tastes like fresh-squeezed orange juice with a bright citrus flavor and just the right amount of pulp.
15. Everything but the Bagel smoked salmon
All you need to do is add it to a piece of sourdough with Kite Hill cream cheese and it's a dream.
Ok friends: please spill all of your favorite Trader Joe's products! I'd love to hear about your faves and add them to our next shopping trip.
xo
Gina