We receive free products and receive commissions through our links. See
disclosures page
.
As an ISSA-certified personal trainer with a home gym setup of my own, I believe there are a few essential pieces of equipment you need to succeed in smashing your goals: a reliable barbell, a sturdy squat rack, and a high-quality weight bench (plus some bumper plates and dumbbells). While you don't necessarily have to go the adjustable route with your dumbbells, investing in an adjustable weight bench is a smart strategy to maximize your exercise options. After all, true FID benches (flat, incline, decline) allow you to train your chest, back, shoulders, and other target areas from just about any angle, which can go a long way in helping you achieve your strength- and muscle-building goals.
When it comes to the adjustable bench market, however, it's not always easy to find a solution that satisfies all the requirements our Breaking Muscle team of certified personal trainers, strength and conditioning coaches, and CrossFitters look for — including construction quality, portability, and ease of use — and still provides great value. But thanks to some clever design work by REP Fitness, you can enjoy the flexibility of a dozen ladder-style adjustments and the comfort of a gap-free lifting experience simultaneously. 
In this REP BlackWing adjustable bench review, we'll break down how one of the industry's most innovative manufacturers blended the best features from its top models into a beastly bench that's built like a tank and performs like a boss.
Key Takeaways
The BlackWing Adjustable Bench combines the ladder-style adjustments from the REP Fitness AB-5200 with the redesigned ZeroGap™ seat technology from the REP AB-5000 to give you the best of both worlds in one well-built bench.
The REP Fitness BlackWing comes in two different pad widths (12.2 or 14 inches), has a weight capacity of 1,000 pounds, and meets International Powerlifting Federation (IPF) competition height standards, making it well-suited for powerlifters and broadly built athletes.
Available in six colors, this zero-gap bench can be stored upright to leave more room for your power rack, weightlifting accessories, and other home gym equipment.
REP BlackWing Adjustable Bench Pros
The BlackWing is ultra-versatile, as it can be utilized as a flat bench, incline bench, or decline bench. Not only can you use the ladder-style system on the back pad to choose from 12 different angles, but you can also use the pop-pin adjustment on the seat pad to switch between six angles ranging from -10 degrees to 45 degrees.
REP's patented ZeroGap™ feature removes a potential distraction by ensuring you'll never have to deal with an annoying gap between the seat and back pads. This unique technology particularly comes in handy when performing a flat bench press, as you'll be seamlessly supported from end to end.
This heavy-duty FID bench is built to last using 11-gauge steel for the frame and REP's new CleanGrip material for the padding. The Colorado-based company also deserves credit for giving the BlackWing a premium appearance with high-end finishes like stainless-steel knurled handles and laser-cut logos.
REP BlackWing Adjustable Bench Cons
Although the BlackWing brings a lot of useful features to the table, a $600 price tag might make it too expensive for some people. If you're working with a tighter gym equipment budget, the REP AB-3000 is a rock-solid FID bench that costs nearly half the price.
While it's designed to be stored vertically, this adjustable bench doesn't exactly earn top marks for portability. Tipping the scales at 131 pounds, the BlackWing requires some strength and patience to maneuver, which can become bothersome if you move your bench around often.
The optional leg roller attachment felt more like an afterthought to our testing team, as it doesn't seem to be made from the same high-quality materials as the bench itself. Plus, while it performed adequately for sit-ups and crunches, it fell short of expectations as a Nordic curl solution.
Our Breaking Muscle Team has ample experience trying out every position on a variety of adjustable benches to perform lifts like the bench press, overhead press, and flye variations. Assessing factors such as construction quality, portability, and padding, we developed a proprietary scoring system to rank critical components that make up a great bench.
REP BlackWing Adjustable Bench Rating
Our Breaking Muscle Team has ample experience trying out every position on a variety of adjustable benches to perform lifts like the bench press, overhead press, and flye variations. Assessing factors such as construction quality, portability, and padding, we developed a proprietary scoring system to rank critical components that make up a great bench.
Here's how the REP BlackWing scored in each category:
| | |
| --- | --- |
| Factor | Rating (out of 5) |
| Price and value | 4.5 |
| Construction quality | 5 |
| Delivery and assembly | 5 |
| Dimensions | 4 |
| Padding | 4.5 |
| Footprint and portability | 4 |
| Performance and ease of use | 5 |
| Incline levels | 5 |
| Available attachments | 4 |
| Warranty | 4 |
REP BlackWing Adjustable Bench In-Depth Review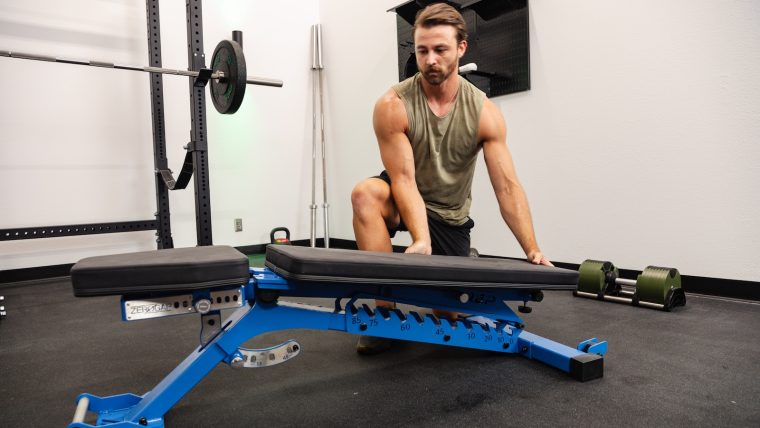 Though it's certainly not the most budget-friendly bench, the BlackWing undoubtedly delivers rock-solid value. REP carefully crafted a high-end piece of gym equipment that stands out for its versatility, durability, and build quality. Despite a hefty price tag and a fairly large footprint, we firmly believe it's a worthwhile investment for serious lifters looking to level up their home gym setup. 
Price and Value
REP priced the BlackWing at about $600, higher than their other adjustable bench models. For comparison, the latest version of the AB-5200 starts at $549.99, while the AB-5000 is on sale for $449.99, as of this writing. Keep in mind that the wide pad option costs an additional $20, and the leg roller attachment is sold separately for about $110.
From a competitor standpoint, the Rogue Adjustable Bench 3.0 — which does have a small gap between the seat pad and back pad — normally costs about the same ($595) as the BlackWing. Meanwhile, the TITAN Series Adjustable FID Bench by Titan Fitness is normally priced at $529.99 but only has a weight capacity of 600 pounds.
Although the BlackWing may not fit everyone's budget, it still brings great value. Not only do you get a true FID bench that has a seemingly endless array of adjustment possibilities, but you also get REP's patented ZeroGap™ seat technology. As someone who's all about getting the most bang for your muscle-building buck, I think the BlackWing boasts more than enough strengths to justify its higher-end price tag. Our testing team rated it 4.5 out of 5 stars for price and value.
Construction Quality
"Stable" is the word that immediately came to mind for our testing team when trying out the BlackWing. REP used premium materials to produce a top-notch bench that feels more than capable of withstanding all your workouts for years to come. Made from 11-gauge steel, the BlackWing's frame is a rock-solid piece of engineering, providing excellent stability and overall support.
REP devoted ample attention to the finer details, too. Instead of using plastic adjustment knobs like they do on the AB-5000, they opted for stainless steel on the BlackWing. A knurled, stainless-steel handle not only makes the bench easier to maneuver thanks to its excellent grip-ability, but it also adds to the BlackWing's premium aesthetic. 
REP also improved the user experience by including knurled handles for adjusting the incline and using laser-cut numbers on the frame so you can easily see which angle you have the back pad set to. Meanwhile, grooved rubber feet give the bench added stability by keeping it firmly anchored to the floor. Plus, you can choose from five frame color options (metallic black, white, red, blue, army green, or matte black) to ensure your bench fits in with the rest of your home gym setup. 
Both the seat pads and back pads come covered in REP's new CleanGrip vinyl, which our testing team believes is the best material the company has used to date. Extra grippy and easy to clean, it's exactly the type of vinyl lifters look for, as a grippy material can prevent you from sliding around on the bench and feeling unstable and unsafe.
As someone who utilizes an adjustable bench for everything from dumbbell chest flyes to rows to overhead presses, I believe nothing is worse than laying down on one that feels slippery or has tears in it. The thick, matte vinyl REP used on the BlackWing is the type of design decision that helped this bench earn all 5 stars for construction quality.
Delivery and Assembly
With free shipping on all orders, REP makes the ordering process a little more budget-friendly. Our testing team did not encounter any delivery issues, which speaks volumes about how well the bench was packaged and handled.
Assembling the BlackWing did take some time (around 20 minutes). Our product testers, who have assembled hundreds of pieces of gym equipment, consider this to be on par for a fully adjustable bench. However, REP did not include any tools to assist with this process. To bring your BlackWing to life, you will need to have a ratchet and sockets on hand, as well as a little bit of patience to put all the pieces in place.
Overall, we scored this bench a 4.5 out of 5 stars for delivery and assembly.
Dimensions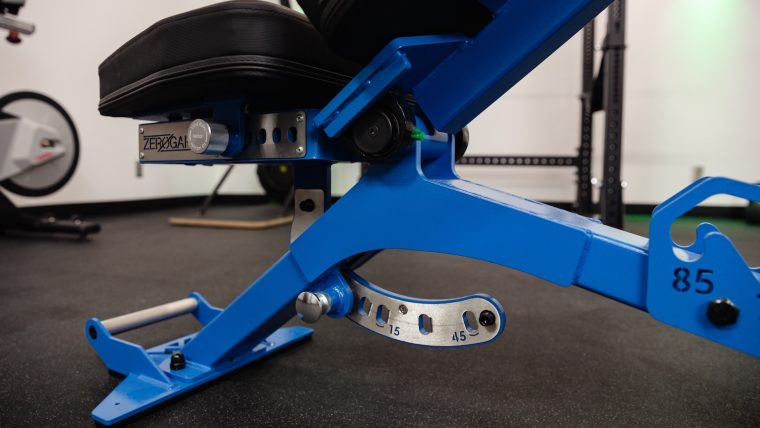 Definitely on the larger side, a fully assembled BlackWing measures 59.5 inches long, 25.8 inches wide, and 17.2 inches tall, putting it firmly within the IPF competition standard. Weighing in at 131 pounds, it's also quite heavy compared to some of REP's other benches. For example, the AB-5000 is 20 pounds lighter, and the AB-5100 tips the scales at 95 pounds.
Meanwhile, the BlackWing comes stock with 12.2-inch-wide pads that can be upgraded to 14 inches for an additional $20. While the standard option compares favorably to something like the Titan Series Adjustable Bench (which comes with a 12-inch-wide pad), the BlackWing is 1.2 inches wider than the Rogue Adjustable Bench 3.0. For more sizable athletes, having that option is a big benefit from a comfort and performance standpoint, as a wider back pad will provide more support. However, keep in mind that the 14-inch-wide pads are not compliant with IPF rules, as the width cannot exceed 12.6 inches.
The design of the front and rear feet add to the overall stability of this heavy-duty bench. The front foot measures 14.8 inches wide, which gives better anchoring and seems to be the inspiration behind the BlackWing's name. All in all, we scored this bench 4 out of 5 stars for dimensions, with the weight being one of the only drawbacks.
Padding
Thin padding can lead to thin patience for lifters. After all, no one wants to lie down on a bench and feel as if the metal frame is digging into their back. Luckily, the BlackWing has thick cushioning that puts our team of testers in a comfortable position to execute all of their lifts.
Moreover, the padding is wrapped in dense CleanGrip vinyl that looks and feels better than other types of vinyl REP has used on their benches. Not only is the matte black material extra grippy, but it's also a breeze to clean. So, even if you're breaking a serious sweat in your garage gym, you won't have to worry about your bench suffering any surface damage as long as you wipe it down after your last rep.
From a padding perspective, we scored the BlackWing 5 out of 5 stars.
Footprint and Portability
Based on its dimensions, the BlackWing has a fairly sizable footprint of 10.7 square feet. In fact, at 59.5 inches long, it's well ahead of other REP benches and is one of the longest adjustable benches on the market. While the AB-5200 is just an inch shorter, the AB-5100 is five inches shorter than the BlackWing, with the AB-5000 falling right in the middle at 57 inches long.
Those dimensions, along with weighing 131 pounds, make the BlackWing a bit tricky to move around and store vertically without a little bit of effort. Still, our testers appreciated the knurled handle and rollers for helping take some of the burden off. If you want to store the BlackWing vertically, you'll need to have at least 3.1 square feet of space to accommodate it. Luckily, the bench's closed ladder system also assists with the storage process, as it prevents the arm of the back pad from sliding out of place when the bench is placed upright.
Overall, having the ability to reduce the bench's footprint by over a third is a big benefit for home gym owners with limited space. However, because of its large footprint and heavy frame, the BlackWing scored 4 out of 5 stars for footprint and portability.
Performance and Ease of Use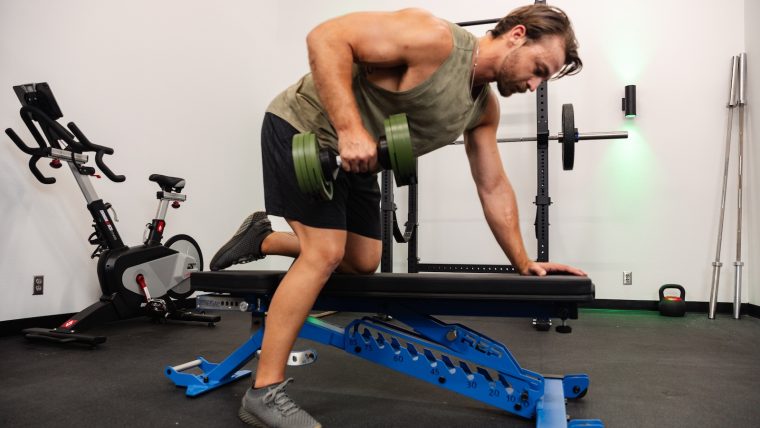 Is the juice worth the squeeze with the BlackWing? Based on our testers' experiences, it met the bar from a performance standpoint. REP hit a home run with its new adjustment systems, making it simple to slide the seat back and forth using the Zero-Gap feature that's made their AB-5000 model particularly popular.
Noticeably lighter and less bulky than its predecessor, our team was impressed with the way REP implemented the unique spring-loaded pop-pin and ratcheting system to make smooth and secure adjustments to the seat pad. Though similar to the system used on the AB-5000, they felt it was a clear upgrade and easier to use.
Most importantly, the BlackWing provided a stable platform for our testers to perform everything from spider curls to chest-supported dumbbell rows. Having a sturdy bench that can go from a flat position to being tilted back to -8 degrees in a matter of seconds without any hiccups should give you peace of mind and plenty of confidence heading into your workout. The BlackWing received all 5 stars for its strong performance and user-friendly design.
Incline Levels
As a true FID bench, the BlackWing gives you the option to train on a flat bench, on an incline, or at a decline. By incorporating a closed ladder-style adjustment system, REP made it possible to choose from 12 different back pad angles ranging between -8 to 85 degrees. Besides the ample angle choices, the testers also enjoyed the added sturdiness of having the adjustment arms located inside the ladder rail. This helped reduce any wobble that would have occurred at incline angles, and in my experience, this is a common issue with cheaper benches.
In addition, REP designed the seat pad to be able to go from -10 to 45 degrees. That type of range separates the BlackWing from other adjustable benches like the AB-3000, which has five seat pad adjustments, and the Rogue Adjustable Bench 3.0, which only has three angle choices for the seat pad (0, 15, and 30 degrees).
Overall, this is where the BlackWing truly shines the most. Whether you want to get stronger on the incline press, develop your delts from an upright position, or build your lower chest on a decline, you have the ultimate tool to get the job done. We scored the BlackWing 5 out of 5 stars in this area.
Available Attachments
You can take your BlackWing experience to new heights if you're willing to pay the right price. For about $110, you can purchase the optional leg roller attachment that was specifically designed to fit with this ultra-versatile, ultra-stable adjustable bench. However, you should temper your expectations about just how functional the attachment is.
Although our testers were eager to test the roller's ability to perform Nordic curls, they were ultimately left disappointed by the experience. Between thin foam and a lack of a toe kick plate, the roller proved to be less than ideal for executing this brutal hamstring exercise. Plus, even with the 14-inch-wide version, our testers found the back pad to be too thin for the BlackWing to be a true Nordic bench.
That said, the attachment isn't a total bust, as you can use it to develop your abdominal muscles with sit-ups, crunches, and other core exercises. Ultimately, though, the roller didn't receive the same attention to detail from REP as the star of the show. Compared to the BlackWing itself, the materials used on the roller — like the use of plastic knobs over stainless steel — felt a notch below. For those reasons, this bench received 4 out of 5 stars in this category.
Warranty
REP Fitness includes a 10-year warranty on bench frames, along with a one-year warranty on sewn items. While that gives you a solid window to utilize the BlackWing and still be covered, the policy isn't quite as good as some of REP's competitors.
Rogue, for example, offers a limited lifetime warranty on frames that voids if a product has been damaged due to negligent or faulty use, alteration, maintenance, storage, or handling by the user. Plus, it provides a three-year warranty on sewn items — a two-year leg up on REP.
Meanwhile, Force USA stands behind its frames with a lifetime warranty, along with a 10-year policy on moving parts and one year of coverage for upholstery and attachments. This applies to equipment used exclusively in private indoor home settings, such as basements and garages.
So, although REP's warranty policy is solid, it falls short of some of its competitors. Because of that, we scored the BlackWing 4 out of 5 stars in this category.
REP BlackWing Adjustable Bench Specs
From its IPF-compliant height to its stainless steel finishes, the BlackWing offers many attractive features in one well-built package (or bench, in this case). REP designed this bench to handle heavy loads over and over again by utilizing high-quality materials that should have no trouble holding up over time. Here are the complete specs for the BlackWing, starting with a full breakdown of its dimensions and ending with a closer look at its compatibility with attachments. 
Dimensions
The REP BlackWing measures 59.5 inches long, 25.8 inches wide, and 17.2 inches tall for a total footprint of 10.7 square feet. This 131-pound FID bench has a seat pad length of 15.6 inches with a 38.2-inch long back pad that's available in two different widths (12.2 inches or 14 inches). So, whether you're a broad athlete who needs wide pads or someone on the smaller side who needs the standard size, the BlackWing can be tailored to your body type.
Looking below, the front foot is 14.8 inches wide, with the rear foot measuring 10 inches wider. The front handle is 6.9 inches long with a diameter of 25 millimeters.
Materials
REP spared no expense when it came to the BlackWing's construction. Made with 11-gauge steel, this bench is built to take a pounding — and continue performing. Plus, REP smartly swapped the AB-5000's plastic adjustment knobs for stainless steel ones that look (and feel) like a clear upgrade.
Meanwhile, the seat and bench pads are covered in the company's new CleanGrip matte vinyl, which is thicker and seems more durable than previous vinyl produced by REP.
Weight Capacity
The REP Fitness BlackWing has a weight capacity of 1,000 pounds. This is the same rating as the AB-3000, which we consider one of the best values for a budget-friendly home gym bench. On the other hand, the REP AB-4100 only has a weight capacity of 700 pounds.
Compatible Attachments
REP designed an optional Leg Roller Attachment specifically for this bench. You can insert the attachment into the built-in receiving post on the BlackWing's back frame to perform core exercises, decline presses, and Nordic hamstring curls. 
Keep in mind that the attachment is not included when you purchase the bench. The leg roller is sold separately for about $110. 
REP BlackWing Adjustable Bench Customer Reviews
It's no surprise that the BlackWing has garnered almost unanimous 5-star reviews on REP's website based on its specs, versatility, and performance. Although several users highlighted how heavy the bench is, the impressive build quality and ability to have a zero-gap lifting experience stood out as overwhelming positives. 
Described as "exceptional" and "amazingly sturdy" in separate reviews, the BlackWing's high-end finishes and fine details make it a home run in the eyes of just about everyone who provided feedback on REP's website.
REP BlackWing vs. Rogue Adjustable Bench 3.0
The Rogue vs REP adjustable bench battle comes down to a few key factors. From a price perspective, the BlackWing is right on par with Rogue's Adjustable Bench 3.0, which costs just under $600 for the standard model. However, that figure jumps to $695 for the stainless steel version — nearly $100 more than the $600 BlackWing. 
Still, you get more flexibility with REP's newest bench, as you can change between 12 back pad angles compared to just 10 for the Adjustable Bench 3.0. While both benches allow you to set the seat pad angle at 0, 15, and 30 degrees, the BlackWing offers more versatility with three more angles (-10, 8, and 45 degrees). 
One major difference to consider is whether you prefer your gym equipment to be made in the USA. If so, you'll want to go with Rogue, as REP manufactures a majority of their products in China. Still, that's not necessarily a knock on the BlackWing (or any of REP's benches), as we've consistently found them to be well-constructed and well-performing.

Rogue Adjustable Bench 3.0
Dimensions: 17.5" H x 52" L x 11" W
Weight capacity: 1,000 pounds
Materials: 11-gauge steel, vinyl cover, rubber feet
Warranty: Limited lifetime on the frame
Final Verdict: Is the REP BlackWing Adjustable Bench Worth It?
If you value versatility, it's hard not to put the REP BlackWing at the top of the best adjustable bench list. With 72 potential combinations and zero gaps, you can get creative with your workouts and never have to worry about not feeling fully supported. Plus, even though the leg roller attachment lacked the same polish as the bench itself, it still gives you even more exercise options.
Of course, the BlackWing's $600 price tag puts it more in the premium bench category than the budget-friendly one. But between its excellent construction and ability to do anything you could ask for (and more), it's worth paying a little more for a truly unique adjustable bench that might just be REP's finest design work to date.
FAQs
Which REP bench is the best?
There are several worthy contenders, including the REP AB-5000, which gives you the ZeroGap feature and plenty of adjustment options for around $450. However, if your budget allows, the BlackWing is the best bench REP produces, as it provides the most flexibility and support and is crafted with quality materials that look great and should last.
Should I get an adjustable weight bench?
If you like to change up your angle of attack and maximize what you can do with dumbbells and a barbell, investing in an adjustable weight bench is the way to go. Having the flexibility to perform flat, incline, and decline versions of different exercises immediately opens the door to a more creative, dynamic workout. 
What should I look for in an adjustable weight bench?
Key factors to consider include the size of the gap between the back and seat pads (too large can make the bench feel unstable), the number of back and seat pad angles, and how easy it is to make adjustments. Pay attention to whether the bench has a pull-pin or ladder adjustment system, as the latter is typically more durable. You'll also want to make sure there's sufficient padding to provide a comfortable and supportive platform for lifting.