We receive free products and receive commissions through our links. See
disclosures page
.
Finding a barbell that performs well for powerlifting, Olympic weightlifting, and general strength training without burning a deep hole in your pocket can be challenging. Luckily, REP Fitness leveled up its barbell lineup in the summer of 2023 with a high-quality model that checks those boxes (and many more): the Colorado Bar. Our Breaking Muscle team of certified personal trainers, CrossFit enthusiasts, and strength and conditioning coaches thoroughly tested this multi-purpose bar's ability to handle traditional powerlifting movements like squats and deadlifts, as well as dynamic lifts like cleans and snatches.  
Durable, dependable, and diverse, the new flagship barbell from one of the most reputable fitness equipment manufacturers delivers serious bang for your buck. In this REP Fitness Colorado Bar review, we'll dive deeper into what makes this model one of the best values on the market by breaking down its specs, highlighting its strengths, and seeing how it stacks up against the competition.
Key Takeaways
The Colorado Bar checks in at a reasonable price point of $319.99 to $329.99 for the 20-kilogram (44-pound) model. There's also a 15-kilogram (33-pound) version that costs between $269.99 and $279.99.
You have two finish options with this barbell: a hard chrome shaft with chrome sleeves, or a Cerakote shaft with Duracoat sleeves. Plus, the Cerakote version gives you the freedom to flex your creative muscles with five color choices for the shaft.
While IPF knurl markings and a 1,500-pound weight capacity give it a power bar feel, the inclusion of IWF knurl markings and the absence of a center knurl also make the Colorado Bar well-suited for Olympic lifts. In addition, composite bushings make for an overall quieter lifting experience.

REP Fitness Colorado Bar

4.5
Material: Steel
Weight: 20 kilograms (44 pounds)
Weight capacity: 680.2 kilograms (1,500 pounds)
Tensile strength: 190 KSI
Loadable sleeve length: 16.1 inches
Knurling: Moderate
Warranty: Lifetime
REP Fitness Colorado Bar Pros
The ability to purchase a Cerakote version of the Colorado Bar should appeal to home gym owners who train in a non-climate-controlled environment. Because this type of shaft coating provides superior protection from the elements than hard chrome, those who train outdoors or in humid garages will appreciate better corrosion resistance courtesy of Cerakote.
The Colorado Bar's composite bushings not only allow for a smooth and steady spin but also give it a tighter tolerance. Another benefit of opting for composite over bronze bushings is less noise when your weight plates hit the floor.
Between its versatility and build quality, the Colorado bar can serve as the only barbell in your home gym. If you don't have a huge budget for gym equipment, you can cover multiple bases by investing in a multi-use bar that's capable of handling a wide range of lifts.
REP Fitness Colorado Bar Cons
A lack of aggressive knurling and a solid-but-not-elite tensile strength of 190,000 PSI make this barbell just an okay choice for powerlifters. If your workouts primarily revolve around the squat, deadlift, and bench press, a specialty bar tailored to your training style may be a wiser choice.
Paying north of $300 for a barbell produced outside of the USA could prevent some people from going the Colorado route. There are American companies that offer similar features at a more tolerable price point.
Although Cerakote shaft coating offers better corrosion resistance than hard chrome, it still falls short of a stainless steel finish. Those who prefer the high-end look and distinct knurling of a stainless steel bar should pass on the Colorado barbell. However, be prepared to pay a premium for those advantages.
REP Fitness Colorado Bar Specs
| | | |
| --- | --- | --- |
| | REP Fitness Colorado Bar (20 KG) | REP Fitness Colorado Bar (15 KG) |
| Price | $319.99 for hard chrome, $329.99 for cerakote | $269.99 for hard chrome, $279.99 for cerakote |
| Weight | 20 kilograms (44 pounds)  | 15 kilograms (33 pounds) |
| Tensile strength | 190 KSI | 190 KSI |
| Weight capacity | 680.2 kilograms (1,500 pounds) | 680.2 kilograms (1,500 pounds) |
| Loadable sleeve length | 16.1 inches  | 12.4 inches |
| Shaft diameter | 28.5 millimeters | 25 millimeters |
| Knurling | Medium volcano knurling | Medium volcano knurling |
| Coating | Hard chrome or Cerakote | Hard chrome or Cerakote |
| Rotation system | Composite bushing | Composite bushing |
| Warranty | Lifetime warranty | Lifetime warranty |
REP Fitness Colorado Bar Rating
From specialty bars designed for power racks to Olympic barbells made for more dynamic movements, the Breaking Muscle team has put various barbells through the wringer to determine what separates the best from the rest. Testing more than 75 models using a gauntlet of squats, cleans, presses, and other lifts, we developed a proprietary scoring system to rank them based on several factors, such as price, knurling, versatility, and durability.
Here's how the REP Colorado Bar scored across each category.
| | |
| --- | --- |
| Factor | Rating (out of 5) |
| Price and value | 4 |
| Delivery | 5 |
| Construction, materials, and coating | 4.5 |
| Knurling | 4.5 |
| Rotation system | 4.5 |
| Versatility | 5 |
| Durability | 5 |
| Warranty | 4 |
REP Fitness Colorado Bar In-Depth Review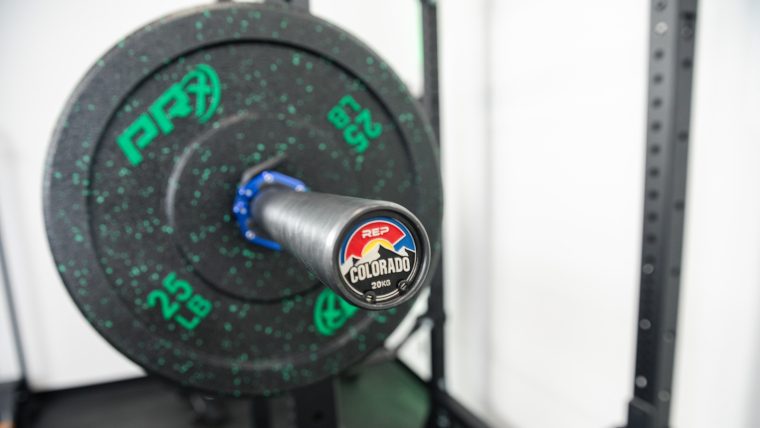 The Colorado Bar may not be a true superstar at one task, but its versatility is what makes it shine. With several finish options, high-quality build materials, and sufficient tensile strength for most lifters, we believe it's a great option for anyone who likes to switch up their type of training. Most importantly, REP's flagship barbell provides excellent value since it can fulfill multiple duties.
Price and Value
The price for the Colorado Bar varies depending on what size and finish you prefer. The 15-kilogram (33-pound) model, which is best suited for beginners, female lifters, and smaller athletes, starts at $269.99 for the hard chrome finish. For $10 more, you can choose a black or pink Cerakote shaft coating with Duracoat sleeves.
On the other hand, the base price for the 20-kilogram Colorado Bar is $319.99. For a mixed-use barbell in a hard chrome finish, the cost falls about in line with the industry average. For example, the Rogue Fitness Ohio Bar ranges between $275 to $415, depending on the finish. However, it may be worth upping your budget a bit to get better corrosion resistance and longevity. At $329.99, the Cerakote-finished Colorado Bar still brings plenty of value, especially since you can choose between five shaft coating colors to add some creative flair to your home gym setup.
Moreover, you don't have to fret about freight costs. As of this writing, REP Fitness offers free shipping, which can save you at least $25. Overall, the Colorado bar packs a ton of customizable options into a well-priced piece of gym equipment, making it our pick for the best budget barbell. We rated it 4 out of 5 stars for the price.
Delivery
Let's just say ordering a barbell on Amazon can be a bit like playing with fire. When I ordered a budget-friendly one for my home gym, the delivery process ended up being a major dud, with a low-quality bar from an entirely different brand than I had selected arriving in damaged packaging that left the endcaps exposed. Needless to say, that disappointing experience left a bitter taste in my mouth about having a barbell shipped to my front door.
Luckily for our product testers, REP Fitness made sure the Colorado Bar arrived at our warehouse in Springfield, MO, with zero issues. I was pleased to hear it suffered no damage during its journey. Well-packaged and well-protected, we gave REP 5 out of 5 stars for a smooth, painless delivery process.
Construction, Materials, and Coating
With a 28.5-millimeter shaft, the 20-kilogram Colorado Bar comes close to the 29-millimeter mark you'll find in most power bars. Part of its appeal is that it has a shaft diameter that falls right in between Olympic and powerlifting standards.
REP gives you ample finish options with the Colorado Bar, including Cerakote (which comes in black, blue, green, red, or white) or hard chrome with hard chrome sleeves. However, keep in mind that chrome plating can reduce the longevity of a bar by 50 percent, which isn't ideal if you drop the bar a lot. Based on our collective knowledge about barbells and the specific steel each brand uses, we'd estimate that the Colorado bar can last at least 30 years in a home gym setting.
Meanwhile, the Cerakote bars have a lifespan of more than 50 years thanks to their F2-R rating. Unlike the F1-R-rated chrome version, they feature Duracoat sleeves that provide higher levels of scratch and corrosion resistance through a chemical process that hardens the outside of the steel to create a smooth black finish.
Speaking of seamless, the Colorado Bar's smooth sleeves make loading and unloading your weight plates a breeze. While I enjoy the efficiency of smooth sleeves, other Breaking Muscle staff members like our Reviews Editor Amanda Dvorak prefer ribbed sleeves since the plates stay in place better even without collars.
Combine that with a classy endcap design that has the company logo, name, and weight of the bar laser-etched on the inside of the sleeve, and you have all the makings of a premium bar at a non-premium price. Overall, the Colorado scored 4.5 out of 5 stars for construction.
Knurling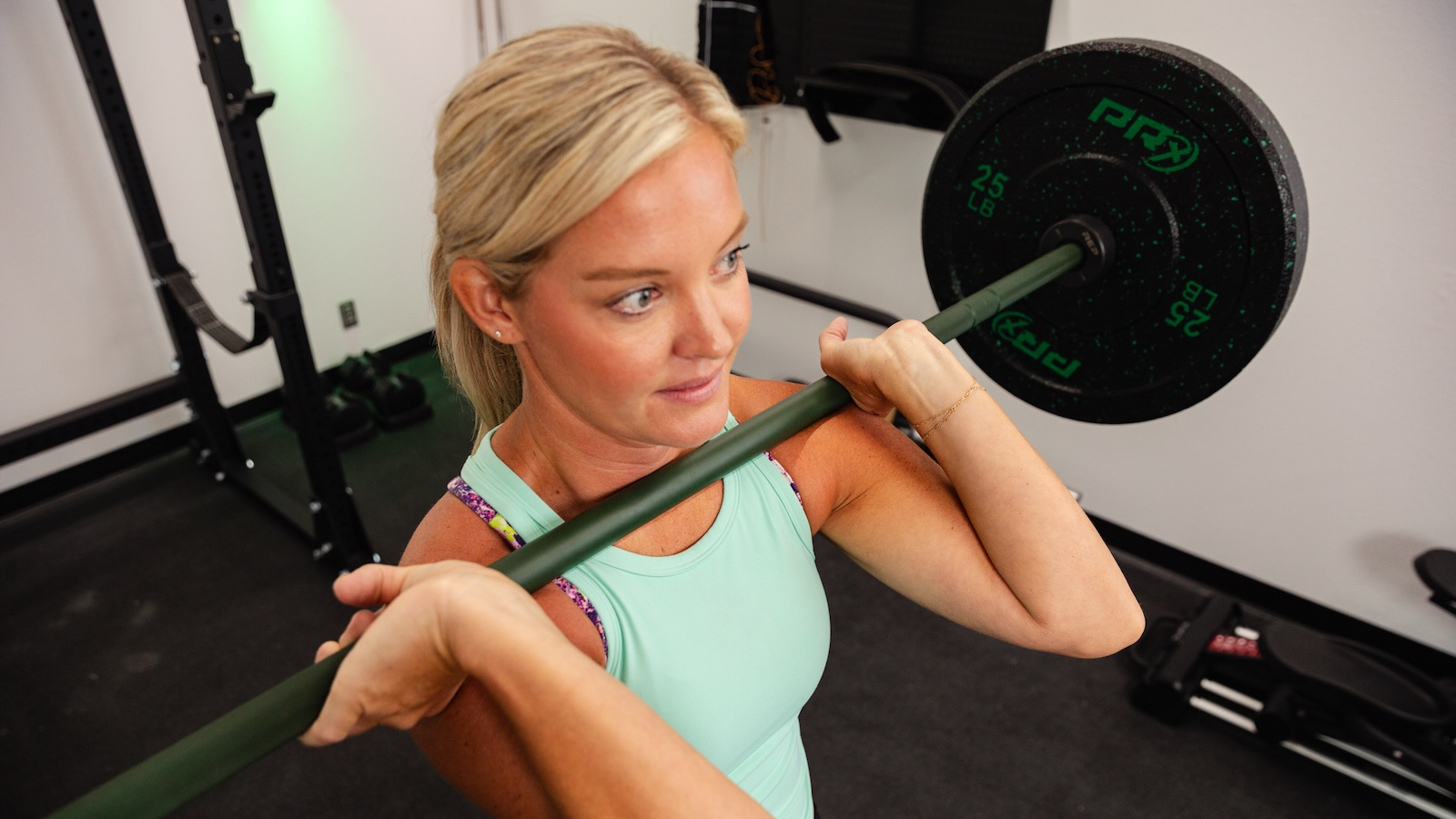 As a mixed-use bar, the Colorado comes with dual knurl markings for International Weightlifting Federation (IWF) and International Powerlifting Federation (IPF) specifications. This makes it easy to identify where to place your hands when bench pressing or performing other lifts, like snatches. At the same time, the absence of a center knurl allows you to comfortably perform Olympic-style movements (like cleans) or high-volume overhead presses without having to worry about scraping up your throat.
The knurling pattern on the Colorado Bar isn't quite as aggressive as what you might find in a power bar like REP's Double Black Diamond Bar, which features deep mountain-style knurling that makes it ideal for deadlifting but not ideal for more dynamic movements. Instead, REP went with a medium-depth, volcano-style knurling that still provides adequate grip without tearing up your hands during high-repetition training sessions. For most athletes, volcano knurling works best, as it provides four points of contact on each marking, leading to a superior grip and less slippage.
Creating sufficient friction without being too abrasive, the Colorado Bar's medium knurling pattern scored 4.5 out of 5 stars on our grading scale.
Rotation System
REP really paid attention to the details of the Colorado Bar's rotation system. Rather than following the industry standard of putting bronze bushings in a multi-purpose bar (like Rogue did with both the Ohio Bar and the more economically priced Echo Bar), they went the extra mile by using composite bushings.
Besides lasting longer than their bronze counterparts, composite bushings reduce the amount of noise when dropping the bar while still providing good spin — something our product testers took note of during their training sessions with the Colorado. Plus, composite bushings also make for tighter tolerances, meaning there's less wobble between the sleeve and the shaft. 
REP's decision to make the Colorado Bar with bushings instead of bearings caters directly to fans of the big three lifts. Power bars usually feature bushings because the sleeves spin more slowly, which makes the barbell feel more balanced while performing deadlifts and bench presses. 
On the other hand, weightlifting bars typically use faster-spinning bearings that play a critical role when the barbell is quickly changing directions during snatches and cleans. In addition, the superior spin rate from bearings also helps reduce stress on the joints when you execute the "catch" portion of a clean or snatch. Still, most multi-purpose bars leave bearings behind for bushings since the latter are more versatile, quieter, and less expensive. 
Between a smooth spin rate, enhanced durability, and a quieter lifting experience, the Colorado Bar earned 4.5 out of 5 stars for its rotation system.
Versatility
Specifically designed to accommodate a variety of workout styles, the Colorado Bar is the ultimate Swiss army knife. With a tensile strength rating of 190,000 pounds per square inch (PSI), you can confidently crush PRs without any problems. In fact, the Colorado bar has the same PSI rating as competitors like the TITAN Series Cerakote Olympic Barbell from Titan Fitness and the Rogue Ohio Bar.
Also capable of being used for non-powerlifting exercises like curls, overhead presses, and cleans, the Colorado Bar can handle just about anything you throw its way. It may not outperform a specialty bar, but if you're looking for one barbell to rule them all in your home gym, this all-around beast can certainly stand up to the task.
All in all, we gave the Colorado Bar 5 out of 5 stars for versatility.
Durability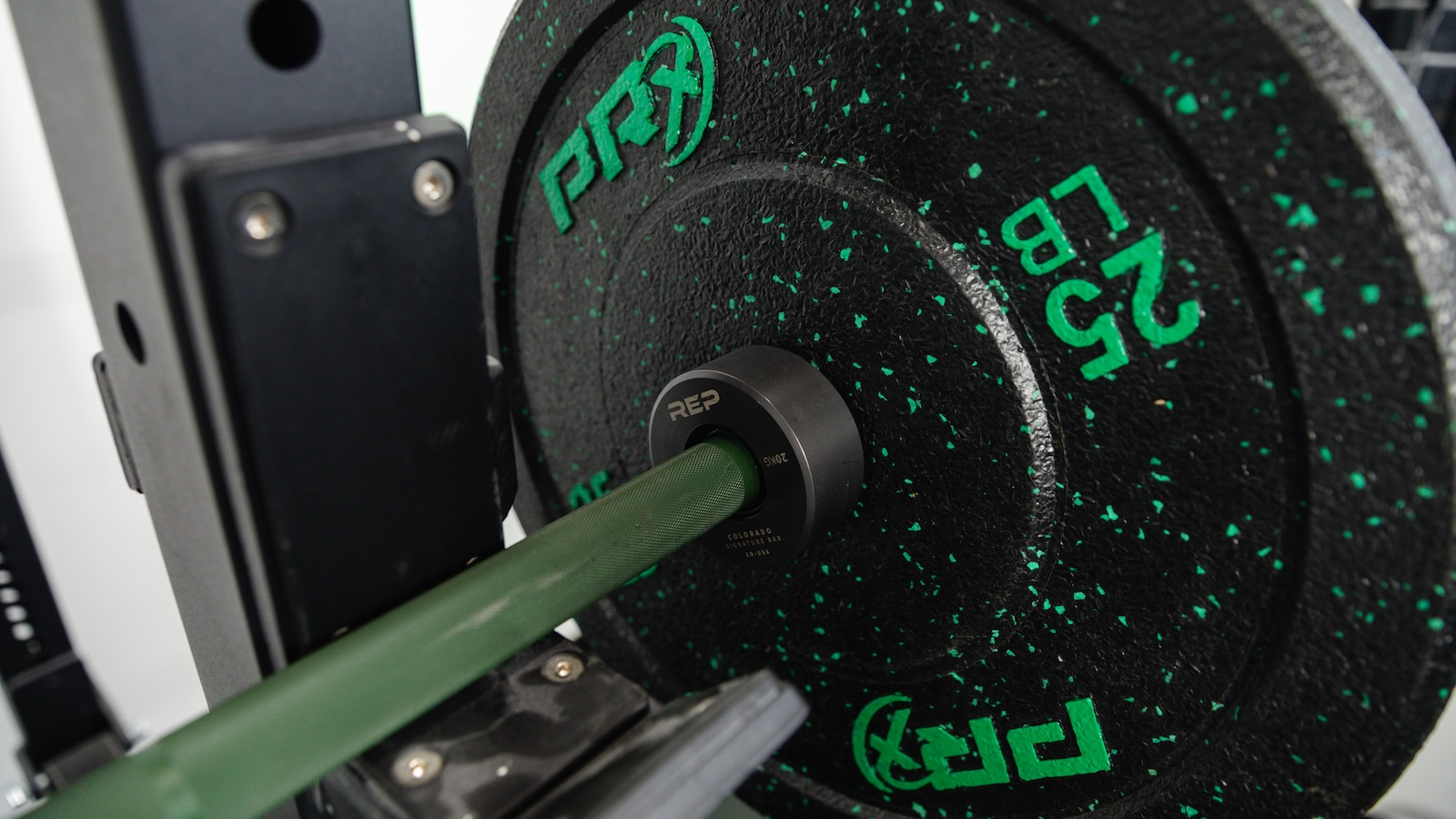 As one of its newer models, the Colorado Bar has yet to show how it can hold up over time. But based on the materials and design, we're confident it will continue to perform well and look good for the long haul.
That said, the safest route — at least from a durability standpoint — is to go with the Cerakote version. Other barbells we've tested that feature this finish have lasted more than six months without rusting. Considering many of them are stored in non-temperature-controlled rooms, that speaks volumes about the level of protection Cerakote provides.
And if you're still concerned about longevity, REP stands behind its barbells with a lifetime warranty (more on that below). Ultimately, we rated the Colorado Bar 5 out of 5 stars for durability.
Warranty
All REP barbells come with a lifetime warranty. However, the policy only covers manufacturing defects. So, if your Colorado Bar gets damaged due to negligent use (i.e., dropping it with iron weight plates loaded on it), you're a bit out of luck. You'll also run into a roadblock if you store your barbell outside, as this will automatically void your warranty. 
Compared to other manufacturers, REP Fitness doesn't offer quite the same level of coverage. For example, Rogue's lifetime warranty also includes bending that's not due to faulty use or abusive dropping of the bar.
So, even though the Colorado Bar includes a lifetime warranty, the defect-only disclaimer led to a score of 4 out of 5 stars in this category.
REP Fitness Colorado Bar vs. Rogue Ohio Bar
It's clear REP had one of its competitors in mind when coming up with the Colorado Bar. Not only is it named after the location of the company's headquarters just like Rogue's Ohio Bar, but it packs similar features into a similarly-priced product.
Despite minor differences in dimensions (the Colorado bar is 0.15 inches shorter with 0.3 fewer inches of loadable sleeve length), both bars have the same shaft diameters (28.5 millimeters) and tensile strength rating (190 KSI). However, the Colorado Bar's composite bushings give it a tighter tolerance and quieter sound than its competitor's bronze bushings. Plus, our testers found it to have a bit more aggressive knurling than the Ohio Bar.
On the other hand, Rogue offers a wider range of finish options. The Ohio Bar comes in five different shaft coatings (black oxide, stainless steel, black zinc, E-coat, or Cerakote) and four different sleeve coatings (chrome, proprietary black matte, bright zinc, or stainless steel). As a result, the price for this American-made barbell ranges from $295 to $465.
Overall, either bar will work well with your squat rack and can withstand plenty of pounding. REP may manufacture their products in China, but they have established a rock-solid reputation for quality in the fitness equipment industry. Ultimately, though, if you want a barbell produced in the USA that has a slightly more inclusive lifetime warranty, Rogue's Ohio Bar will be the way to go.

Rogue Fitness Ohio Bar

4.5
Comes with a lifetime guarantee against bending
Weighs 20 kilograms (about 44 pounds) and has a 28.5-millimeter diameter
16.4-inch loadable sleeve length
Dual knurl rings and no center knurl
REP Fitness Colorado Bar Customer Reviews
There's no doubt REP hit a home run by releasing the Colorado Bar during the summer of 2023. Within just a few months, customers have found it to be a worthwhile investment for their home gyms based on the overwhelmingly positive feedback. With 4.9 stars based on 75 reviews, lifters around the country have fallen in love with the latest addition to REP's line of home gym equipment.
Besides being impressed with the look and overall finish of the Colorado Bar, customers also appreciate the medium-aggressive knurling and smooth spin rate courtesy of the composite bushings. One user noted that the oil from your fingers shows through on the black finish, which may make going with another color a less stressful alternative. 
Final Verdict: Is the REP Fitness Colorado Bar Worth It?
The REP Fitness Colorado Bar brings a premium feel at a fairly affordable price. While there are certainly cheaper options available, home gym enthusiasts who value versatility and attention to detail shouldn't hesitate to pull the trigger on REP's new flagship barbell.
For less than $330, you can get a high-quality, Cerakote-finished bar that's designed to handle just about any type of workout, comes with a lifetime warranty, and can anchor your garage gym setup all on its own. Although the Rogue Ohio Bar is certainly a worthy contender due to its durability, price, and performance, you can confidently call upon the Colorado Bar to help you achieve your strength- and muscle-building goals.
FAQs
Is REP Fitness made in China?
As of the beginning of 2022, most REP Fitness products are made in China. However, the company manufactures globally with a constant eye on expanding its production base to other locations.
What are the dimensions of the REP Fitness Colorado bar?
The 20-kilogram version of the REP Fitness Colorado Bar measures 86.6 inches long with a loadable sleeve length of 16.1 inches. With a shaft diameter of 28.5 millimeters and a sleeve diameter of 50 millimeters, it can fit Olympic weight plates with no issues. Meanwhile, the 15-kilogram model is 79.1 inches long with a loadable sleeve length of 12.4 inches, a shaft diameter of 25 millimeters, and a sleeve diameter of 50 millimeters.
Where does REP Fitness ship from?
While the manufacturing process takes place overseas, REP ships their products from one of their two U.S.-based warehouses, located in Pennsylvania and Southern California.