We receive free products and receive commissions through our links. See
disclosures page
.
As a registered dietitian, I am asked almost every day for recommendations on the best type of protein supplement. And while I'm sure to only recommend proteins whose quality and formulation I can stand behind, there's another feature that's also pretty important: the flavor.
If you don't like how a protein powder tastes, you are pretty unlikely to stick with it all the way to the bottom of the jug. This is a shame because the benefits of a higher-protein diet are really something that only happens over the course of weeks and months.  
If you want to increase your muscle mass, control cravings while losing weight, or boost recovery from your workouts, these are the best-tasting protein powders that may help make it happen. 
Medical disclaimer: This article is intended for educational and informational purposes only. It is not intended as a substitute for medical advice. For health advice, contact a licensed healthcare provider.
How We Chose the Best Tasting Protein Powder
Our process for choosing what protein powders taste the best is very selective. And yes, to be clear, it involves us actually tasting over 75 proteins.
But to ensure that you can make a well-informed decision and don't end up with an actual milkshake instead of a protein shake, we test for a wide range of criteria. These include not only flavor, but also price, formulation, solubility, side effects, third-party testing, and the customer experience. Try any of our recommendations and be confident that we did the homework so you don't have to.
Our Top Picks for the Best Tasting Protein Powder
Best Tasting Protein Powder Overall: Jacked Factory Authentic Iso

Jacked Factory Authentic ISO

4.0
Protein type:

Whey isolate

Number of servings:

30

Cost per serving:

$1.20 to $1.33

Calories per serving:

110 to 130

Protein per serving:

25 grams, depending on the flavor

Flavors:

Cookies & Cream, Unflavored (if you buy from Amazon)

Third-party tested:

No
Pros
Made in the USA, in an FDA-registered facility 
Manufactured without fillers or dyes 
Offers a 100% money-back guarantee for the first 30 days of purchase
Cons
Uses the artificial sweetener sucralose
Jacked Factory Authentic Iso is an affordable, high-quality, great-tasting protein powder that packs a lot of flavor and a solid 25 grams of protein into a surprisingly low-calorie serving.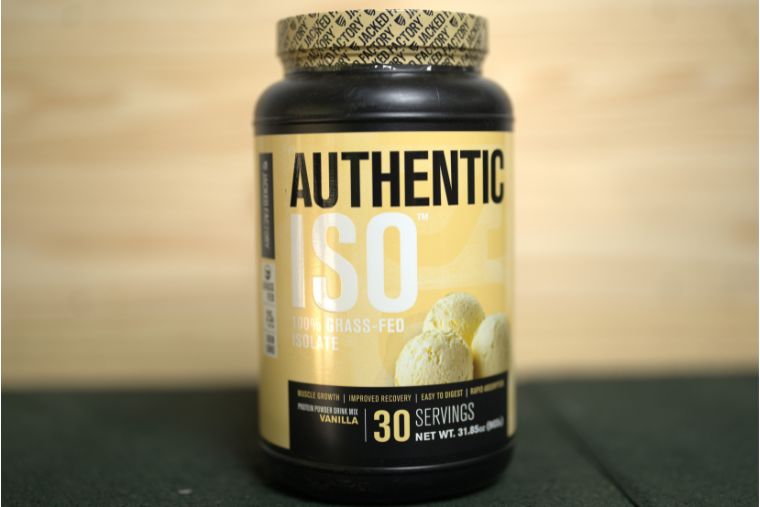 This protein has a personal connection, as my hubby is a lifter on an eternal quest to find the protein that'll help him build muscle mass the quickest, while still tasting like a well-earned post-workout treat. Jacked Factory's rich chocolate-flavored whey supplement is the one he keeps coming back to.
The protein in Jacked Factory Authentics Iso powder is sourced from whey — a byproduct of dairy cheese production. Whey isolates aren't usually considered to be the tastiest or creamiest of proteins since they have less fat and carb content than either whey concentrate or milk isolate protein. However, Jacked Authentic gets consistently high ratings from reviewers — and from my husband — for how well it mixes and the overall flavor.
As a dietitian, I like how simple the formulation is, with no fillers, gums, or dyes. It does use the artificial sweetener sucralose in its formulation which is a deal-breaker for some people, but does help in keeping the overall calories so low. There are a few users who report that they found this product overly sweet, but the general consensus is that each of the eight flavor options currently available brings the goods and tastes like what they promise.  
At the time of this writing, this product has a 4.4 out of five star overall rating on Amazon. Out of 509 reviewers, Jacked Factory Authentic Iso is given a 4.6 out of five stars for how easily it blends, 4.3 out of five stars for the quality of the ingredients used, and 4.2 out of five stars with regard to flavor.
RELATED: Best Protein Shakes
Best Tasting Protein Powder for Women: Ritual Essential Protein Powder

Ritual Essential Protein Powder

4.4
Protein type: Pea protein
Number of servings: 15
Cost per serving: $2.66
Calories per serving: 115 
Protein per serving: 20 grams 
Flavors: Vanilla
Third-party tested: Yes
Pros
Each scoop/serving has 493 milligrams of l-methionine
Legitimate vanilla flavor from Madagascar vanilla beans
Provides 8 grams of essential amino acids and 4 grams of branched-chain amino acids in every serving 
Does not contain any artificial colors, flavors, or sweeteners
Cons
Comparatively more expensive than other protein powders on the market 
Only one flavor
Whether you are picking up toddlers all day, carrying heavy grocery bags, or hitting the weights, you need adequate protein to power you through it. Ritual Daily Shake is our top choice for women to help us accomplish everything we do in our day-to-day. It only has one flavor option available. However, you won't be disappointed by the handcrafted vanilla, which is sourced from vanilla bean extract farmed and harvested in Madagascar. 
Building muscle and maintaining muscle mass requires good protein intake. Ritual uses organic pea protein and we know from randomized trials that pea protein positively helps repair muscle damage after exercise. (8) And as a mom of two small kids, I am here to tell you: yes, running after your wild toddlers in the yard definitely counts as exercise. 
To really determine if the flavor blends well, our product tester tried Ritual Daily Shake two ways: in a blender cup with plain water and in a smoothie with strawberries and blueberries. She gave it a 5 out of 5 rating for solubility. It dissolved easily in water alone and had a great consistency and a smooth texture.
Our tester noticed a slightly chalky aftertaste, but it wasn't enough to keep her from finishing her drink or using the protein powder again in the future. She also found that the taste enhanced the smoothie and did not overwhelm it. She ranks the taste for Ritual Daily Shake as a 4 out of 5. 
Best Tasting Chocolate Protein Powder: XWERKS Grow

XWERKS Grow

4.3
Protein type: Whey protein isolate
Number of servings: 30
Cost: $1.97 per serving
Calories per serving: 110
Protein per serving: 23 to 25 grams
Flavors: Chocolate, Peanut Butter, Strawberry, Vanilla
Third-party tested: No
Pros
Sourced from dairy cows in New Zealand that are 100% grass-fed
Around 6,000 milligrams of branched-chain amino acids in every scoop 
Manufactured with 4,226 milligrams of glutamic acid per serving, which may assist muscle growth
Mixes easily
Cons
Not third-party tested at the time of writing 
Limited flavor options
XWERKS Grow protein powder is sourced from dairy cows that are not exposed to hormones, antibiotics, or pesticides and are 100% grass-fed only. The formulation is simple, clean, and doesn't contain any artificial ingredients, sweeteners, flavors, or coloring.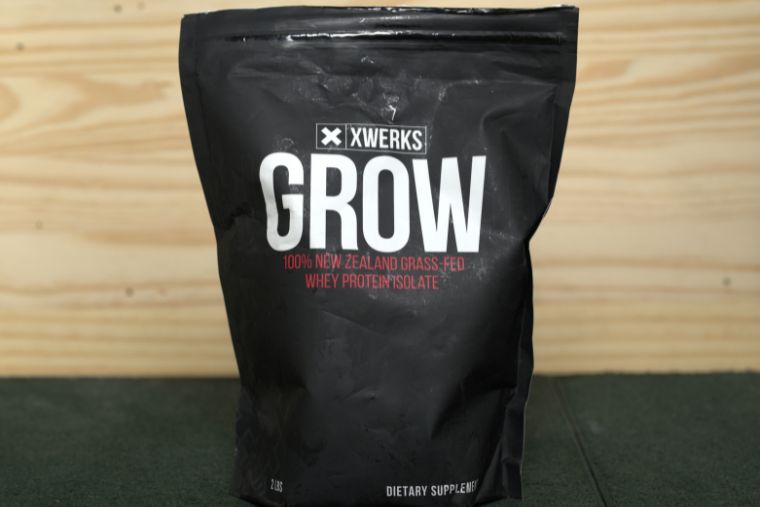 Like some of our other top picks, this powder's protein source is whey isolate, which means it has been micro-filtered to remove excess calories caused by non-protein sources like fat. (3) XWERKS Grow also has about 4 grams of glutamic acid per scoop. Glutamic acid is noteworthy for its ability to assist in muscle growth, but it is also a flavor enhancer that can improve our sensitivity to the fifth basic taste: umami. (4)(5)
Our supplement tester scored XWERKS Grow protein powder's formulation, taste, and solubility as a 5 out of five. They really emphasized that this product is incredibly smooth – your days of gritty chocolate flavoring are over. Our Breaking Muscle team member reported this as the "finest protein powder I've ever drank" and was excited by how easily XWERKS dissolves. You barely need a shaker and blender ball to mix this protein powder to get the perfect amount of chocolate flavoring. 
Best Tasting Plant-Based Protein Powder: Transparent Labs Rice & Pea Protein Powder
Pros
Contains no added sugars or artificial sweeteners 
You will receive a complete plant-based protein profile in every scoop 
Manufactured without the use of genetically modified organisms (GMOs)
As more of the population becomes health-conscious, there has been a big push to create plant-based protein powders. Plant-derived protein sources may have protective factors against chronic diseases like diabetes, hyperlipidemia, and chronic kidney disease. (6) Of the plant-based protein powders currently available, Transparent Labs Rice & Pea protein powder is our top pick. 
What made it stand out? Transparent Labs brand does a fantastic job of being exactly that — transparent. There are no proprietary blends in any of their supplements. They tell you exactly how much of each ingredient you get in a serving of their products. For every 32.05 gram scoop of the vegan protein powder, you get 20,000 milligrams of organic rice protein and 9,411 milligrams of organic pea protein isolate. Blending these two organic protein sources creates a "complete protein," which means it contains sufficient amounts of all nine essential amino acids. 
While Transparent Labs' chocolate vegan protein powder can work in water alone, the texture doesn't lend itself to this simple preparation as readily as egg or whey. Our tester reports that this powder had a somewhat gritty texture.
This seems to be the recurring theme among reviewers on their website as well. Out of 286 reviews, Transparent Labs Rice & Pea Protein holds 4.2 out of 5 stars. Many reviewers report that they really "clicked" with this protein once they added it to hot and cold cereals, pancake mix, or in a non-water beverage such as almond milk. 
Best Tasting Whey Protein Powder: Legion Whey+

Legion Whey+

4.0
Protein type: Whey isolate
Number of servings: 30 to 78
Cost per serving: $1.54 to $2.00
Calories per serving: 100 to 130
Protein per serving: 21 to 24 grams
Flavors: Apple Pie, Banana Bread, Cinnamon Cereal, Dutch Chocolate, Birthday Cake, Chocolate Peanut Butter, Cocoa Cereal, Cookies & Cream, French Vanilla, Fruity Cereal, Honey Cereal, Mocha Cappucino, Pumpkin Pie, Salted Caramel, Strawberry Banana, Unflavored
Third-party tested: Labdoor
Pros
Made in the USA in an NSF-certified and FDA-inspected and cGMP-compliant facility 
Hormone-free, no added sugar, non-GMO, and antibiotic-free
Gluten-free and made without lactose
5,600 milligrams of BCAAs in every scoop
Cons
Some users are overwhelmed by the vast options for flavoring (this is definitely a "Pro" in some people's books)
The "best tasting whey protein powder" title goes to a product that is made without the use of added sugars, has 100 percent natural ingredients (meaning it is naturally flavored and sweetened), and has a third-party testing grade of "A" from Labdoor. Legion Whey+ is sure to have a flavor that you will enjoy because there are just over 15 flavor options!
The Breaking Muscle product review staff gushed about the Cinnamon Cereal flavor option and gave it a 4.5 out of 5 because it left them wanting more of that well-known Cinnamon Toast Crunch cereal flavor. If you don't like cinnamon, another one of the classic or unique options, such as Banana Bread, might speak to you.
Many reviewers specifically praise this lactose-free protein for how easy it is to digest. This makes it a popular choice for fortifying everyday foods with protein-rich flavor. For example, you could add cereal-type flavors to literal cereal, add French vanilla to tropical fruit breakfast smoothies, or put birthday cake protein powder in cake balls. 
This protein powder blends perfectly and many users (including our product tester) report no issues with Legion Whey+ powder's solubility.
The only complaint our review staff lodged was against the Legion website itself. The customer service policies and actual customer service team are all great, but navigating the website requires getting past a ton of obnoxious pop-up ads and personal email requests. If you can get past these and add the powder to your shopping cart, your prize will be what we think is the best-tasting whey protein powder on the market. 
RELATED: Best Whey Protein Powder
Best Tasting Vegan Protein Powder: Vega Sport Premium Protein Powder

Vega Sport Protein

4.2
Protein type: Alfalfa, pea, pumpkin seed, sunflower seed
Number of servings: 12 to 20
Cost: $2.22 to $3.55 per serving
Calories per serving: 170 to 180
Protein per serving: 30 grams
Flavors: Berry, Chocolate, Mocha, Peanut Butter, Vanilla
Third-party tested: NSF Certified for Sport
Pros
5 grams of branched-chain amino acids (BCAAs) in every serving 
Manufactured with the addition of two billion CFUs of the probiotic Bacillus coagulans
Has some tart cherry in its formulation
Multiple plant-based protein sources for a complete amino acid profile
If you are a practicing vegan or simply prefer plant-based protein powder, Vega Sport Premium hits some big checkboxes: a complete amino acid profile, third-party testing, and user-beloved flavors.  
Vega Sport Premium is sourced from a unique protein blend combination of peas, pumpkin seeds, organic sunflower seeds, and alfalfa. This gives it a light, not overly pea-y texture that mixes equally well in plain water, a smoothie, or any dairy-free beverage.
This supplement is made without any added sugars — meaning that the creamy flavor you get comes from all-natural ingredients, plus the plant-based sweetener stevia. While many stevia-flavored protein powders can have a unique flavor or aftertaste, our testers report that the stevia in Vega is undetectable, and the overall flavor is natural and clean. With regard to flavor, users couldn't be happier.
On their website, they have had 499 reviewers say their peace. Of the 499 reviews, 419 gave this product a 5 out of 5-star rating, 56 gave it a 4 out of 5, 22 gave it 3 out of 5 stars, and 1 user each gave a 2-star and 1-star rating.  
With regard to mixability, this product has earned a 4.5 out of five stars from us because it blends so easily. Try this supplement in coffee, a blueberry and strawberry smoothie, and even mixed in with peanut butter on a PB&J sandwich!
RELATED: Best Pea Protein Powder
Best Tasting Vanilla Protein Powder: Swolverine Whey Protein Isolate

Swolverine Whey Protein Isolate

3.6
Protein type: Whey isolate
Number of servings: 30
Cost: $2.10 per serving
Calories per serving: 110
Protein per serving: 26 grams
Flavors: Chocolate, Honey Cinnamon Peanut Butter, Mint Chocolate Chip, Strawberry, Vanilla
Third-party tested: Lief and Micro Quality Labs
Pros
Added digestive enzymes in every scoop (papain and protease) 
Protein is sourced from cows that are grass-fed and rBGH-free (recombinant bovine growth hormone)
No proprietary blends of ingredients — 100% transparent about what you are getting per scoop
Cons
Comparatively expensive
Texture can be a little thin and watery
Contains sucralose and the thickener/sweetener xanthan gum
Vanilla-flavored protein powders are flooding the protein supplement market right now. In fact, if you were to search "vanilla protein powder" on Amazon, you'd find over 2,000 results. We don't hand out the award for our top pick for best-tasting vanilla powder lightly, but Swolverine Whey Protein Isolate certainly earned it. 
While it's more expensive than most other protein powders on our list, our Breaking Muscle testing team gave Swolverine a solid 5 out of 5 for its formulation. For only 110 calories, you get 26 grams of protein but only one gram of carbs, and 0.5 grams of fat. 
This makes this product ideal for those looking to maintain muscle mass while dieting. Consuming whey protein has been directly correlated with a reduced risk of muscle mass loss, increasing skeletal lean muscle mass, and preventing muscle mass from being used for energy when utilizing caloric restriction. (2)
Our testers gave Swolverine Whey Protein Isolate a 4 out of 5 ranking for both taste and solubility. They report that a serving-size scoop blends quickly and completely in a run-of-the-mill blender bottle, even noting that it was "kinda weird" how easily this powder turns into a thin mixture. This may be off-putting for some users though who prefer their protein shakes to be thicker.
For this reason, if you're someone who prefers a thicker protein shake, consider adding Swolverine to milk or dairy-free milk. When mixed with milk, Swolverine received high praise from our tester who said it was very rich and tasted great.
Best Tasting Protein Powder for Weight Loss: Myprotein Impact Whey Protein

Myprotein Impact Whey Protein Powder

3.8
Protein type: Whey protein concentrate
Number of servings: 10 to 200
Cost: $0.95 to $1.30 per serving
Calories per serving: 100
Protein per serving: 19 grams
Flavors: Birthday Cake, Chocolate, Chocolate Brownie, Chocolate Mint, Chocolate Smooth, Chocolate Stevia, Cinnamon Cereal, Fruity Cereal, Marshmallow Cereal, Mocha, Salted Caramel, Strawberry Cream, Unflavored, Vanilla, Vanilla Stevia, White Chocolate Peppermint
Third-party tested: No
Pros
Loads of flavor options! 
You will get 2,500 milligrams of glutamine per serving 
Each serving has less than 1 gram of fat and 3 grams of carbohydrates
Cons
Lower protein per serving than other options
The cost per serving increases with the more servings per bag you purchase.
If you are picky about flavor, MyProtein Impact Whey Protein powder probably has the answer. At the time of writing, it comes in 20 different flavors. Flavors like white chocolate peppermint, salted caramel, and birthday cake give you a wide range of non-junk food options to support your weight loss journey, making this an easy pick for the best-tasting protein powder for weight loss. 
A scoop of MyProtein Impact provides 18 grams of protein, which is on the low side, but impressively, it does it with just 1.5 to two grams of fat, three grams of carbohydrates, and 95 to 100 calories per serving (depending on which flavor you decide to roll with). Plenty of research has supported whey protein supplementation as a way to manage caloric intake, reduce fat mass, and prevent muscle mass catabolism (breakdown) when dieting. (7) And when you're dieting, your protein needs might actually be higher than when you're eating in a caloric surplus. MyProtein Impact can be a low-calorie way to reach your recommended daily intake of protein, while still getting to partake in fun, dessert-like flavors. 
Of all the flavor options available, the Cookies and Cream option doesn't appear to be very popular. However, the Fruity Cereal, Chocolate Brownie, and Birthday Cake options get the most consistently high marks from our reviewers. But because there are so many fun flavor options, try and get creative in the way you use them. You could add protein powder to a fruity smoothie bowl or make high-protein baked goods. Several reviewers love how easily this product mixes without leaving a gritty texture, even when mixed with plain water or low-fat milk. 
RELATED: Best Supplements for Weight Loss
Best Tasting Casein Protein Powder: Kaged Casein

Kaged Casein

4.0
Protein type: Isolated Micellar Casein 
Number of servings: 29
Cost per serving: $1.38
Calories per serving: 110
Protein per serving: 25 grams 
Flavors: Chocolate Peanut Butter 
Third-party tested: Informed Sport
Pros
608 milligrams of calcium per serving
Slow-digesting protein for overnight or meal replacement
10.5 grams of essential amino acids in every scoop 
Made with a proprietary blend of medium-chain triglyceride oil powder
If you have searched for protein powder supplements, you have probably found whey protein to be the most popular. However, it is not the only dairy-based protein source. Allow me to introduce casein. Casein isn't as popular in the protein powder world as whey, but it offers some unique advantages that are worth taking seriously. First and foremost, it's a slow-digesting protein, whereas whey gets digested quickly. (9) But this just means that you can use casein protein powders, like Kaged Casein, for different scenarios than whey protein. 
Since casein hangs out in the digestive tract longer than whey protein, it helps you to feel fuller for longer, while also helping to control glucose (blood sugar) levels, and facilitating muscle growth and repair. When compared to whey, casein is best used during periods of fasting, such as long breaks between meals and even sleep. (9) 
Kaged also packs a punch when it comes to calcium – delivering 608 milligrams per scoop. This is a hefty dose of calcium when compared to other protein powders. To put it in perspective, the amount of calcium present in the other powders in this review varies from 0 milligrams (Transparent Labs Rice & Pea Protein Powder) to 260 milligrams (Vega Sport Premium Protein Powder). Calcium is an important mineral and electrolyte used for muscle contraction. Without it, we would not be able to flush our muscles with energy in the form of glucose during exercise and post-workout recovery. (10) So, we appreciate that Kaged Casein adds in a healthy amount.  
Most protein powders that use casein in their formulation are thicker in texture than plain whey. Our Breaking Muscle review staff gave this product a 4 out of 5 for formulation and solubility. We deducted a point for mixability due to how long it takes to get this protein to actually dissolve. However, after a little while, the mixture became pretty smooth and ended up creamier and richer than any whey shake.
We also gave it 4 out of 5 stars for taste. We tried the Vanilla Shake flavor, which doesn't currently appear to be available. However, customers on Kaged's website have praised the Chocolate Peanut Butter flavor. One customer called it "amazing" and another said he has "tried a few others and always come[s] back to Kaged chocolate peanut butter."
Many reviewers actually appreciate this extra thickness, as it results in a milkshake-like treat, especially if you cool it down in the fridge or freezer before drinking. Kasein also works great in food preparations like chia seed pudding, protein ice cream, or no-bake cheesecake bites.  
Best Tasting Low-Carb Protein Powder: Onnit Whey Protein

Onnit Whey Protein

4.4
Protein type: Whey isolate
Number of servings: 30
Cost: $2.00 per serving
Calories per serving: 110
Protein per serving: 20 grams
Flavors: Mexican Chocolate, Vanilla
Third-party tested: Informed Sport
Pros
Made with a digestive enzyme complex blend 
Contains a proprietary blend of the probiotic Lactobacillus acidophilus 
Has medium-chain triglyceride powder in its formulation 
Cons
Manufactured with gum fillers
Thin texture
Spendy
For only three grams of carbs per serving, Onnit Whey brings offers unique flavors and a few perks for your digestive system. Along with 20 grams of whey protein isolate, each scoop brings a blend of digestive enzymes and a dose of the healthy probiotic Lactobacillus acidophilus. These added components are known to aid in carbohydrate digestion. Those who struggle with whey-based protein powders may find Onnit Whey easier to digest and experience fewer GI symptoms. 
Our product review team gives Onnit Whey Protein powder a 5 out of 5 stars for solubility but a 3.75 out of 5 stars for taste. Our reviewer found the texture to be rather thin when mixed with water alone, but far superior when added to oat milk. However, she loved the Mexican Chocolate flavor, finding it more unique than the usual chocolate protein formula. 
Reviewers on Onnit's website concur that the mixability is great and that the protein powder blends smoothly into smoothies, cereals, and milk (both animal and plant-based). However, not all long-time users rave about the new vanilla flavor ingredient formulation. If you try this powder and decide that it's not for you, don't worry — we rank Onnit's customer service 5 out of 5 stars due to their responsiveness online and their money-back guarantee. 
Benefits of Protein Powder
Protein powder supplements offer plenty of benefits. You should consider adding one to your diet if any of the following support your health and fitness goals: 
What To Look For in the Best Tasting Protein Powder
Choosing which dietary supplement to roll with is a big decision. We understand that there are a lot of things to consider when researching which protein powder will fit the bill for your individualized health goal and be enjoyable to drink. As a registered dietitian, I also recommend considering solubility, texture, cost, calories per scoop, macro and micronutrient formulation, added ingredients, and lingering side effects.
Macronutrients
When you read a nutrition food label, you will notice percentages to the right of the fat and carbohydrate listings. However, if you keep scrolling down the label, you will find that our third and final macronutrient, protein, does not have a percentage for the daily value listed next to it. Percent daily value is based on a 2,000-calorie daily intake. This percentage is not required to be listed on the food label for protein.
Since the amount of protein needed in a day varies so drastically with regard to physical activity, medical concerns, age, sex, and anthropometrics (such as height and weight), you will only find it represented as grams. What your body needs from a protein powder will be based on your desired nutrition targets.  
Physical activity. Multiply your body weight in kilograms by 0.8 grams of protein to determine your daily protein needs. As you increase your output through minimal, moderate, and high-intensity workouts, you will need to multiply your body weight in kilograms by 1.0, 1.3, and 1.6 grams of protein, respectively, to build lean body mass appropriately. It would be wise to incorporate a protein powder with some carbohydrates for post-workout recovery to help replenish your muscles' energy storage. 
Anthropometrics and overall goal. You will need to adjust the amount of protein you intake daily to align with your nutrition goals. If you want to gain muscle mass and recover quicker post-workout, a powder with a higher protein content can help. If you want to lose weight and implement protein intake as a way to help with satiety, the amount you will need will heavily depend on your current height and weight. 
Medical concerns. To promote healing, our protein needs generally increase post-surgery and even when recovering from illness. Those who have diabetes usually need a higher protein intake than the general population. However, those who are not on dialysis but have impaired renal function will have decreased protein needs. 
Protein Source 
Protein can come from a wide range of plant or animal-based sources. The most common form of protein found in protein powders is whey protein. Whey, along with casein, is a byproduct of the cheese-making process. The main difference between these two popular proteins is the rate at which we absorb them. 
Casein is digested and absorbed slowly because it curdles when exposed to stomach acid. It can take as much as  5 hours or more to fully digest. On the contrary, your body breaks down whey usually within 90 minutes after consumption. Casein is great for when we know we won't eat for a long time and need slow-released amino acids — such as before going to bed. Whey protein is ideal for post-workout recovery and muscle synthesis. (9)(11)
Plant-based protein is just as reliable as whey protein when it comes to gaining muscle and cultivating lean body mass. Many studies have shown that when pea protein and brown rice protein contain the same amount of protein as animal sources, they are as effective at delaying workout fatigue and improving post-workout recovery times. So if you are vegan, vegetarian, or just looking for a plant-friendly option, don't feel like you have to compromise in either quality or taste. 
Other Ingredients
Be sure to review the list of ingredients on the nutrition facts label when choosing a protein powder. The manufacturer will note on the label if their protein powder contains common allergens. Check the label carefully to make sure you are not exposed to anything that could cause an allergic reaction or gastrointestinal upset, such as soy, artificial sweeteners, dairy, nuts, or gluten. 
It is always a good idea to consult with a registered dietitian nutritionist who can personalize dietary supplements to your health needs. Things like fiber, probiotics, digestive enzymes, vitamins, minerals, and antioxidants should be taken into consideration when choosing a dietary supplement, to ensure it helps bolster your health targets. 
Flavor and Solubility 
We can't skip over flavor when considering which protein powders taste the best. Drinking the same protein powder every day can feel repetitive and boring, which can discourage us from using our protein supplements as we should. To prevent this, I encourage my clients to shake up the way they approach protein powder and incorporate it into their diets in a creative way. 
For example, adding chocolate peanut butter-flavored protein powder to muffin mix would be a great way to fortify the mix with more nutrients. Mixing vanilla protein powder into a cold coffee can make a yummy iced latte. Cinnamon cereal and pumpkin spice choices would be delicious flavor options to put in pancake batter, bread dough, and overnight oats.
Solubility is another crucial factor to consider. If a protein powder doesn't dissolve well and forms clumps when you mix it, you probably won't want to consume it again. According to our testers, the products above had varying levels of solubility. The Transparent Labs Organic Vegan Rice & Pea Protein Powder scored a 3.75. The other products we tested scored a 4 or 5 on the grading scale, with 5 being deemed perfect for mixability.
Third-Party Testing  
Third-party testing for label accuracy and purity isn't the norm in the supplement industry, but it's important to look for. Third-party testing shows that a manufacturer went the extra mile to prove that their ingredient list is free of banned substances, microbial life, heavy metals, and toxins and that it contains only what the label says. 
Final Thoughts
Incorporating protein powder into your fitness and health routine doesn't have to be boring. To help stir your tastebuds, we have compiled our picks for the best-tasting protein powder currently on the market. We have a rigorous vetting process for testing products and out of the nearly 100 protein powders we have tried, only 10 made the cut. 
Protein powder is an excellent way to supplement your diet to increase your overall protein consumption. Keep in mind that protein powder should be exactly that though – supplemental and not serve as a routine meal replacement. A diversified, well-balanced diet consisting of whole food sources from each food group should constitute your normal eating patterns. However, if you are looking for a great-tasting, low-carbohydrate, low-fat, calorie-conscious protein supplement, we have you covered. Protein powder is used to increase muscle mass, curb hunger, improve exercise endurance, delay fatigue onset during a workout, and recover quicker so you can hit the gym again feeling fresh. 
Best Tasting Protein Powder: Side-by-Side Comparison
FAQs
Which protein powder tastes the best?
Our Breaking Muscle team hands the title for best-tasting protein powder to Jacked Factory Authentic Iso. This is based on taste testing and comparing over 73 protein powder supplements. Spoiler alert: this is also one of the most affordable options we have tested, and it comes in eight stellar flavors. 
What are the top three protein powders?
After careful consideration and an in-depth internal testing process, we believe the top three protein powders are Legion Whey+, XWERKS Grow, and Kaged Casein. These three supplements consistently scored the highest for taste in every flavor option they offer. 
Is there a protein powder that doesn't taste like anything?
Many brands offer "unflavored" protein powders, such as Legion Whey+ and Jacked Factory Authentic ISO. However, generally speaking, you won't find a protein powder that tastes like truly nothing. Most will incorporate other ingredients, such as stevia or Himalayan rock salt, that can influence the taste. These options are still good for adding beneficial nutrients to coffee, muffin mix, cookie batter, or other foods without changing their original flavor profile. 
Research
Kadam BR, Ambadkar RK, Rathod KS, et al. Health benefits of whey – a brief review. Intern Journ of Livestock Res. 2018;8(5):31-49. doi: 10.5455/ijlr.20170411022323
Devries MC, Phillips SM. Supplemental protein in support of muscle mass and health: advantage whey. Journ of Food Sci. 2015;80:8-15. doi: 10.1111/1750-3841.12802
Foegeding EA, Davis JP, Doucet D, et al. Advances in modifying and understanding whey protein functionality. Trends in Food Sci & Tech. 2002;13(5):151-159. Doi: 10.1016/S0924-2244(02)00111-5
Kamei Y, Hatazawa Y, Uchitomi R, et al. Regulation of skeletal muscle function by amino acids. Nutrients. 2020;12(1):261. doi: 10.3390/nu12010261
Kurihra K. Umami the fifth basic taste: history of studies on receptor mechanisms and role as a food flavor. BioMed Res Intern. 2015. doi: 10.1155/2015/189402
Cao X, Liao W, Wang S. Food protein-derived biocative peptides ofr the management of nutrition related chronic diseases. Adv in Food and Nutr Res. 2022;101:277-307. doi: 10.1016/bs.afnr.2022.04.004 
Samal JRK, Samal IR . Protein supplements: pros and cons. Journ of Diet Supp. 2018;15(3):365-371. doi: 10.1080/19390211.2017.1353567
Nieman DC, Zwetsloot KA, Simonson AJ, et al. Effects of whey and pea protein supplementation on post-eccentric exercise muscle damage: a randomized trial. Nutrients. 2020;12(8):2382. doi: 10.3390/nu12082382
Lambers TT, Van den Bosch WG, Jong S. Fast and slow proteins: modulation of the gastric behavior of whey and casein in vitro. Food Dig. 2013;4:1-6. doi: 10.1007/s13228-012-0028-7
Girgis CM, Clifton-Bligh RJ, Hamrick MW, et al. The roles of vitamin D in skeletal muscle: form, function, and metabolism. Endo Rev. 2013;34(1):33-83. doi: 10.1210/er.2012-1012
Dangin M, Boirie Y, Guillet C, et al. Influence of the protein digestion rate on protein turnover in young and elderly subjects. J Nutr. 2002;132(10):3228S-33S. doi:10.1093/jn/131.10.3228S