Sharing a roundup of 10 delicious vegan Halloween recipes.
Hi hi! How are ya? I hope you're having a lovely morning! It's officially feeling like fall around here and I'm so excited for upcoming Halloween and holiday events.
Halloween, with its spooky decorations and playful costumes, is one of the most anticipated holidays of the year. Amidst the sugary treats and snacks that typically dominate the scene, it's fun to include vegan options for friends who are dairy-free or avoid animal products. While yesterday's post was filled with non-vegan things, today is for my veggie friends. (Also, I'm the non-vegan who loves vegan foods and treats!)
Today, I'm excited to share a roundup of ten delightful vegan recipes to add to your Halloween festivities.
10 Vegan Halloween Recipes
Jack-O-Lantern Stuffed Peppers
These vibrant bell peppers carved into Jack-O-Lantern faces not only make a festive centerpiece but are also filled with a delicious and nutritious quinoa and vegetable stuffing.
Ingredients:
Orange bell peppers
Quinoa
Mixed vegetables (carrots, onions, zucchini)
Vegetable broth
Spices (cumin, paprika, garlic powder)
Instructions:
Preheat the oven. Carve Jack-O-Lantern faces into the bell peppers.
Cook quinoa in vegetable broth. Sauté mixed vegetables and spices.
Combine quinoa and vegetables, stuff peppers, and bake.
Witch's Brew Green Smoothie
Create a bewitching green smoothie that's not only spooky but also packed with nutrients. Perfect for starting your Halloween morning on a healthy note.
Ingredients:
Handful of spinach
1 banana
1 scoop vanilla protein powder of choice
Sprinkle of cinnamon
1 tablespoon peanut butter
1 cup almond milk
1 tablespoon chia seeds
Instructions:
Add all ingredients to a blender and blend until smooth.
Pour into a cauldron-shaped glass. Sprinkle chia seeds on top.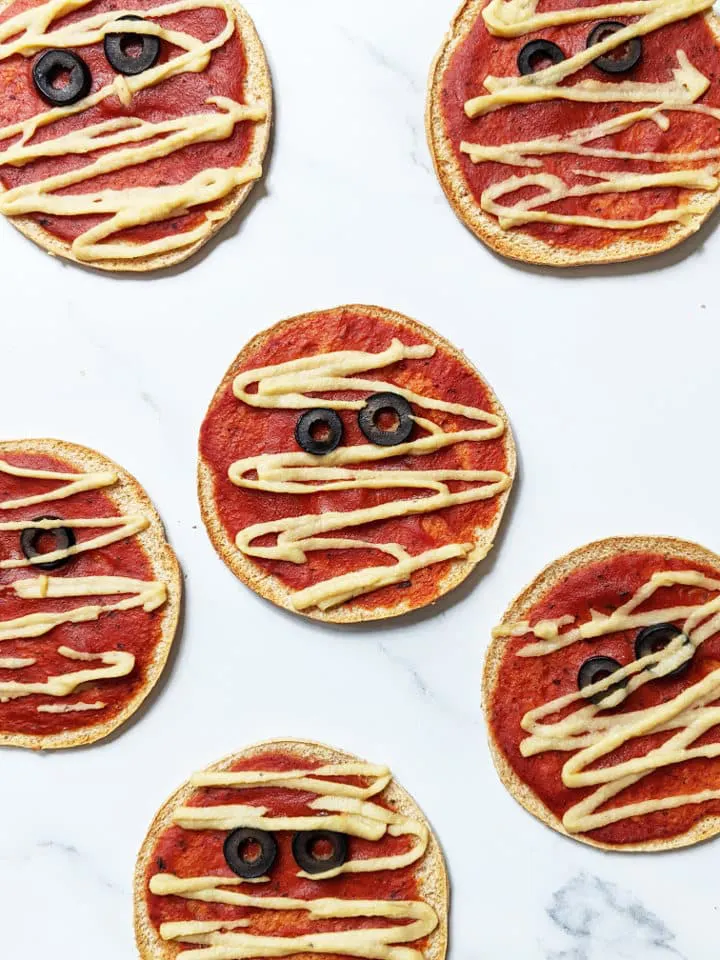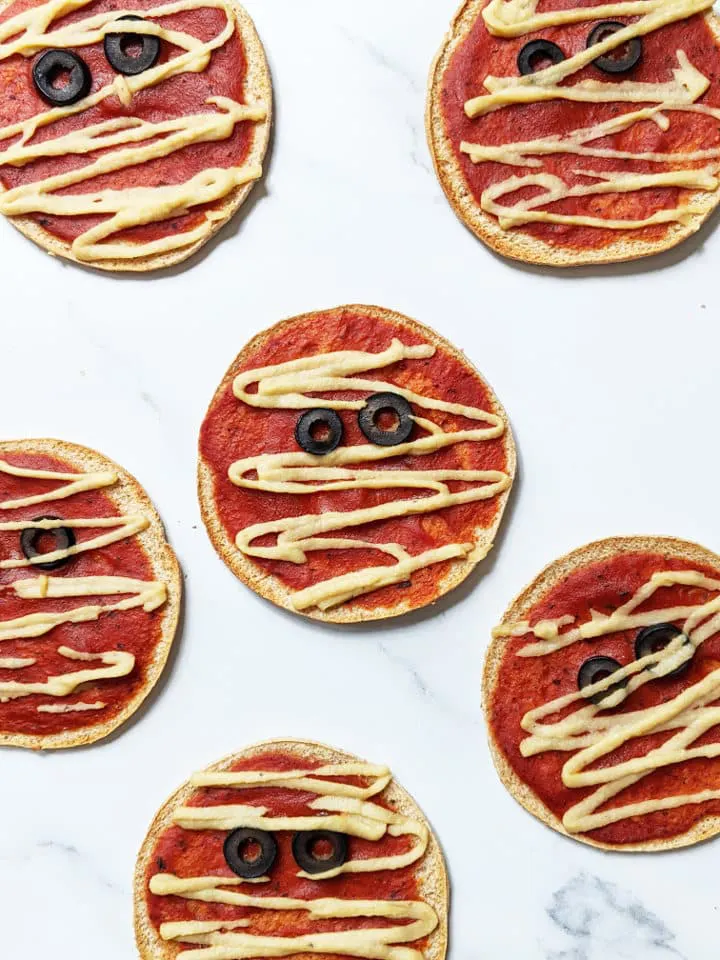 Mini Vegan Halloween pizzas
This would be a cute appetizer to make with the kids! SO easy, too. Recipe is here.
Graveyard Guacamole Dip
Transform your guacamole into a spooky graveyard scene with tombstone-shaped tortilla chips.
A creative and healthy dip for your Halloween party- check out this post for an awesome tutorial.
Peanut Butter Banana Ghosts
These adorable banana ghosts dipped in peanut butter and coated with shredded coconut make for a healthy and ghostly sweet treat.
Ingredients:
Bananas
Peanut butter
Shredded coconut
Dark chocolate chips (for eyes)
Instructions:
Cut bananas in half.
Dip in peanut butter and coat with shredded coconut.
Add dark chocolate chips for eyes.
Spooky Spiderweb Vegan Chocolate Cake
This decadent vegan chocolate cake, adorned with a spooky spiderweb design, is a delightful centerpiece for your Halloween dessert table.
Ingredients:
Vegan chocolate cake mix
Vegan chocolate frosting
Vegan white chocolate chips
Instructions:
Bake the chocolate cake as per instructions.
Frost with chocolate frosting. Use melted white chocolate to create a spiderweb pattern.
Candy Corn Fruit Parfait
Capture the essence of candy corn in a healthy fruit parfait featuring layers of pineapple, mandarin oranges, and coconut cream.
Ingredients:
Pineapple chunks
Mandarin orange segments
Coconut cream
Instructions:
Layer pineapple chunks at the bottom.Add a layer of mandarin orange segments.Top with coconut cream.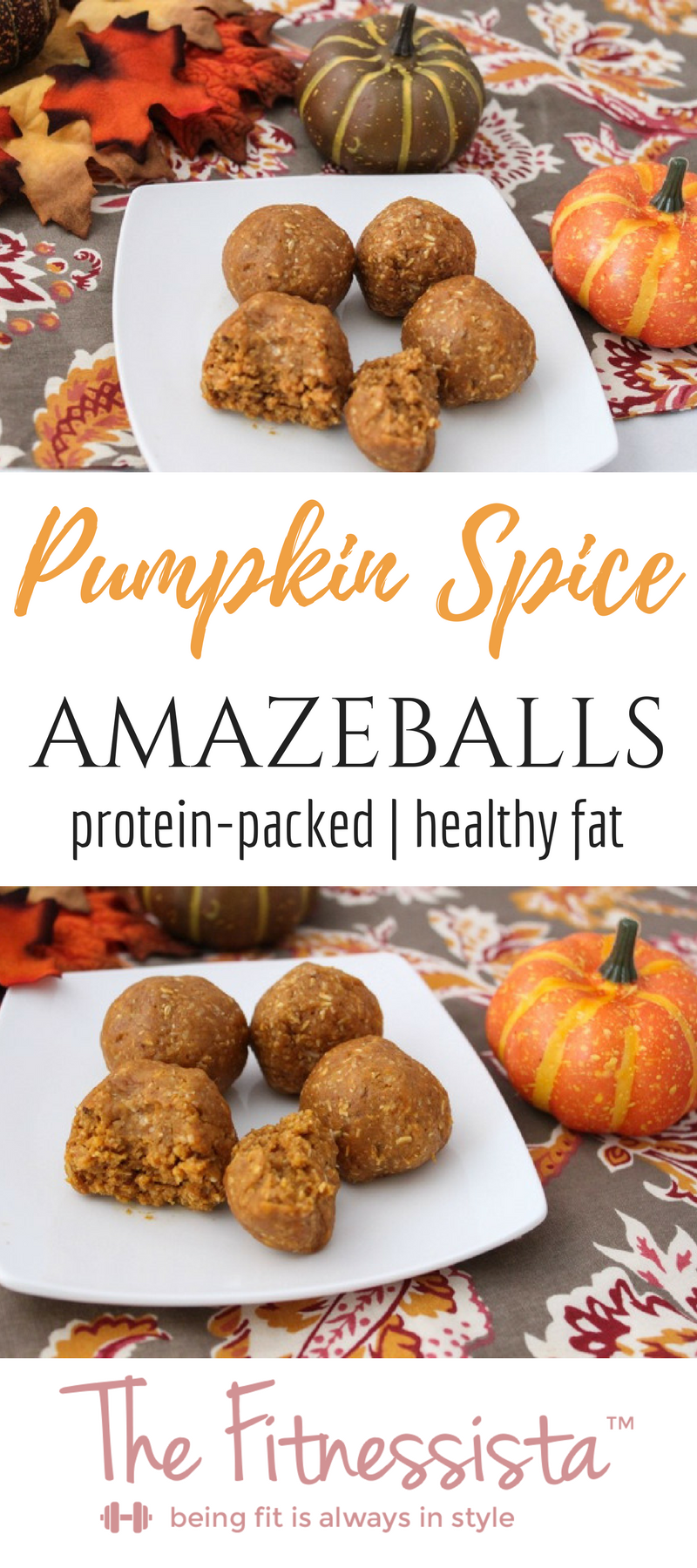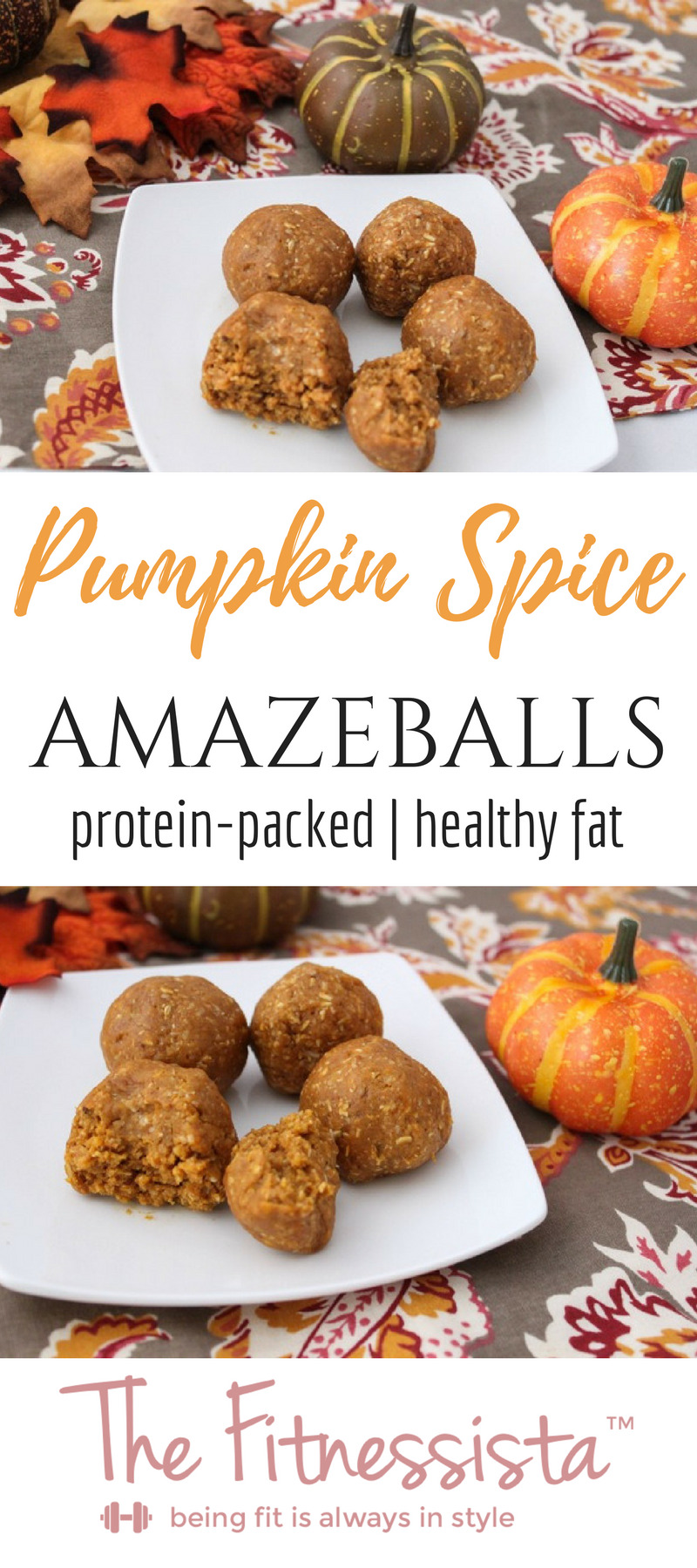 Pumpkin Spice Energy Bites
These no-bake energy bites, infused with pumpkin spice flavors, are a quick and healthy snack for your Halloween celebrations.
Ingredients:
Rolled oats
Pumpkin puree
Almond butter
Maple syrup
Pumpkin spice
Instructions:

Pumpkin Pie Smoothie bowl
Nothing spooky or themed about this one, but it's so festive and a unique twist on a regular smoothie bowl. Recipe is here!
Whether you're hosting a party, preparing snacks for trick-or-treaters, or simply enjoying a cozy night in, these recipes all have a fun Halloween vibe. Feel free to get creative, adapt them to your liking, and hope you enjoy!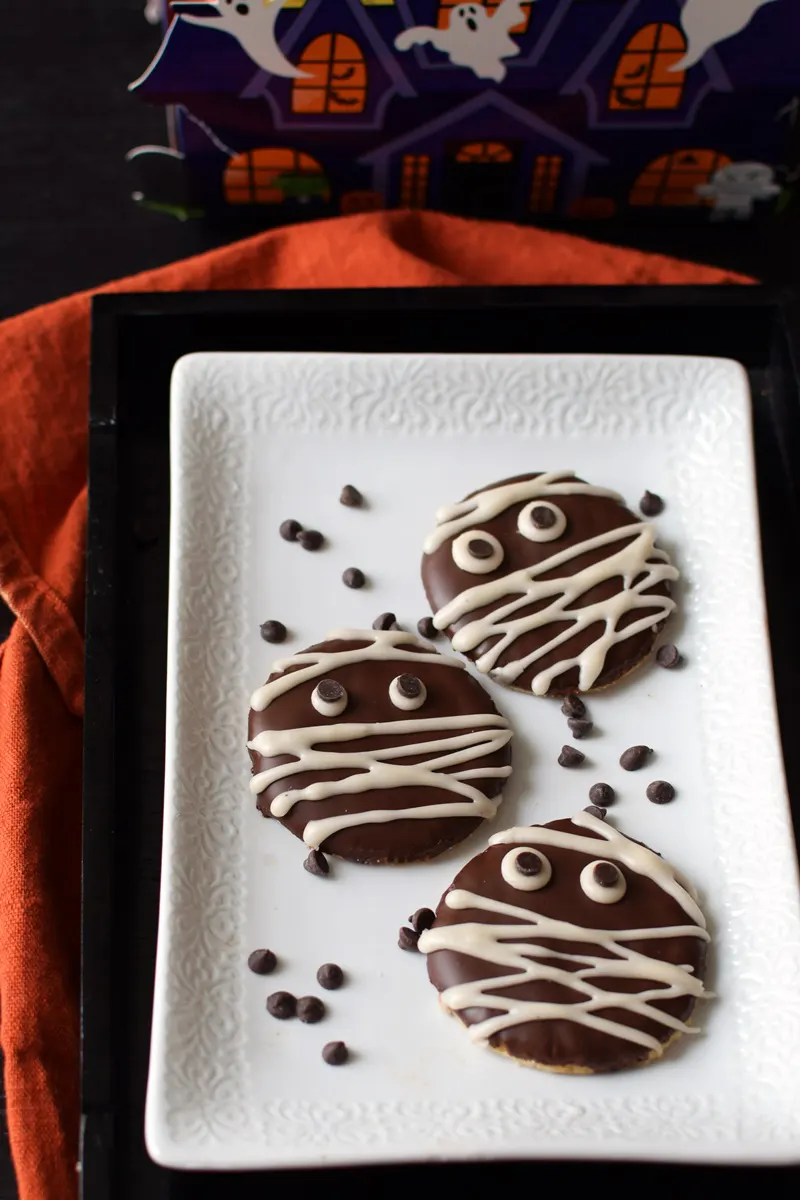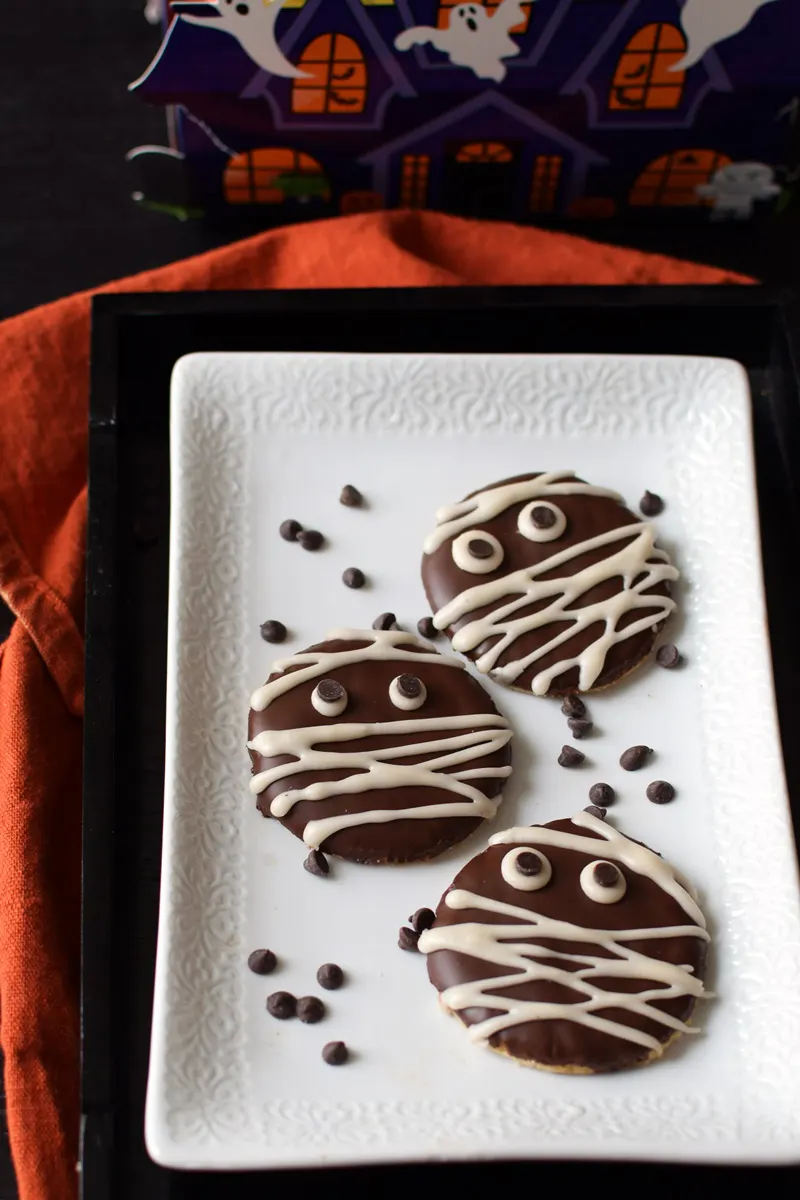 Vegan Mummy cookies
These mummy cookies are so cute and festive; I definitely want to make some with the girls!
What types of festive treats are you making this Halloween season? Please spread the love in the comments section!
xo
Gina
More:
Check out this amazing vegan banana pudding
Halloween costumes with a baby and