The world champ shared some training tips en route to his next contest.
In November of 2022, at the World Natural Bodybuilding Federation (WNBF) World Championships, Chris Elkins scored arguably the highest accolade of his bodybuilding career when he captured a world title in the Men's Physique division.
Elkins, who turned pro as a natural bodybuilder (Men's Open division) in 2015 before earning a Men's Physique pro title in 2019, has been a competitor for 10 years and shows no signs of slowing down.
He is currently prepping for two upcoming contests — the 2023 WNBF Pro Universe, taking place on Sept. 23 in White Plains, NY and the 2023 WNBF KAGED World Championships set for Nov. 18-19 in Seattle, WA. Elkins provided some training insights with a video posted to his YouTube channel on Sept. 5, 2023, detailing a glute and hamstring-focused workout while also featuring his go-to method for training abs.
The WNBF, the organization in which Elkins has competed for more than eight years, prides itself on being one of the most stringently drug-tested bodybuilding federations — incorporating polygraph testing as well as in-contest and offseason drug testing. Their goal is encourage natural competition without the assistance of performance enhancing drugs, including anabolic steroids.
At the time of the video's filming, Elkins was roughly three weeks out from the WNBF Pro Universe contest and stated that his current condition was already set for presentation. For context regarding his overall physique, he has previously stated that he is 5-feet, 6-inches tall.
"This morning, I weighed in at 154.1 [pounds/69.9 kilograms], which is a little bit surprising because last year for the first show [2022 WNBF Pro Universe], I got down to 148 [pounds/67.1 kilograms]. Some of my friends are saying that they don't think I'll even need to get under 150. I know by Worlds, I'll probably be close to 148, but last year I got down to 143 … but I do feel I look the best I've ever looked and I'm really excited."
Before leaving for the workout, the 39-year old Elkins mixed up an intra-workout formula containing BCAAs, as well as creatine. Due to the time of day, he opted to avoid any pre-workout stimulants.
He then walked to the gym for his training session, where he planned to target his posterior chain — glutes and hamstrings — paired with some abdominal work. He was joined by his girlfriend/training partner, as well as his 11-year old son (who was briefly shown performing a back workout of his own).
Barbell Hip Thrust
Elkins began his workout with the barbell hip thrust, an efficient glute-focused exercise. He was shown performing three sets for eight to 12 reps, but the specific weight wasn't provided. Elkins made sure to set his feet in a position that allowed his thighs to be parallel to the ground in the top position, with a 90-degree knee angle for optimal stability and muscle recruitment.
Lying Leg Curl
Moving into the second exercise, Elkins complained of low energy and lightheadedness due to having eaten only 1,000 calories during the day, including just 68 grams of carbohydrates. Still, the champion bodybuilder progressed to training his hamstrings with lying leg curls. Elkins was shown on video performing one set of 10 reps, but didn't clarify if that was the entirety of the leg curls.
Single-Leg Glute Press
Elkins proceeded to a unique leg exercise — a single-leg glute press, performing a "back kick"-style movement to recruit his glutes and hamstrings. He performed one set of 10 reps on camera, previously noting that his glutes were "already done" with the movement.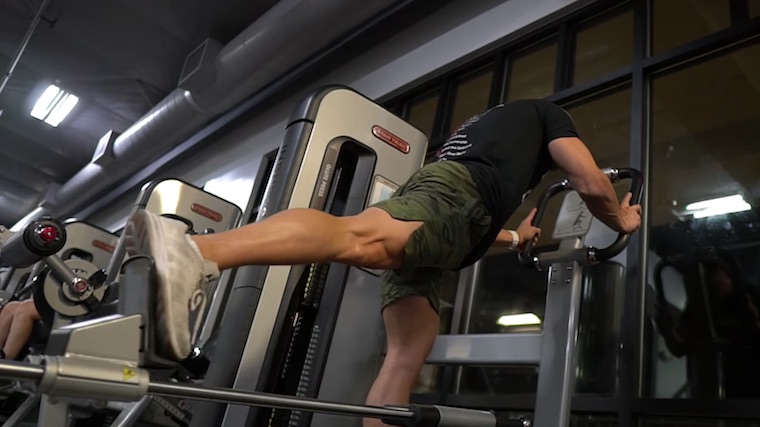 Elkins then moved into the ab training portion of the workout. He explained that he'd been "lazy" in neglecting direct ab training throughout contest prep, relying on his strong genetics to carry him through. Still, he targeted them with an intense superset of paired exercises on a decline bench without additional resistance.
Decline Crunch
Elkins hooked his feet into the support pads and reclined his upper body fully onto the bench. He performed 12 slow and steady repetitions using a full range of motion, moving from flat on the bench to completely crunched forward, before switching immediately to the next exercise.
Reverse Crunch on Decline Bench
Elkins inverted his body position, grabbing the leg support handle with both hands and extending his legs straight. He again used a full range of motion for the reverse crunch, bringing his legs from floor-level to above his head, while raising his hips nearly above his shoulders. He completed nine repetitions before ending the set. He didn't detail how many total sets were performed, but the Men's Physique champion did offer some ab training advice.
"The key on these decline sit-ups is a full stretch at the bottom. You're getting spinal flexion because that's what works the rectus abdominis [ab muscle]. This is my favorite ab superset because it works the entire abs from top to bottom. This one [decline crunch] you're getting more focused on the top, you're getting both a contraction and stretch. And then on the reverse crunches, you're getting a great lower ab workout and you're really controlling that negative [lowering or stretching phase]. All about that spinal flexion."
With a pair on contests on the horizon, Elkins' short-term plan seems in place — earning more pro victories to further cement his legacy. A win at the 2023 Pro Universe would be his third consecutive time capturing that Men's Physique title, while wining the 2023 World Championships would be a repeat of his 2022 performance.
Featured Image: @chris_elkins / Instagram